Academics
New College of Arts & Sciences Dean Appointed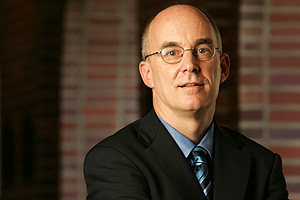 Peter Starr has been named American University's new dean of the College of Arts and Sciences by AU provost Scott Bass. Starr's first day on campus will be July 1, 2009.  

"Dr. Starr brings to AU a background that will be valuable in promoting the centrality of liberal arts and sciences on campus and in continuing to further strengthen the academic and financial foundation of the college," said Bass in announcing the appointment.

Starr is currently a professor of French and comparative literature in the College of Letters, Arts and Sciences at the University of Southern California (USC), where he also served as the college's interim dean, and dean of undergraduate programs, among other positions.

Under his leadership, USC's College of Letters, Arts and Sciences made significant gains in student quality and faculty hiring.  Starr is committed to diversity: of the 19 faculty members hired by the college when he was dean, eight are from underrepresented groups and four are African American. In his view, hiring strong minority faculty members is the single most effective step in improving the recruitment and retention of minority students.

At USC, Starr achieved high levels of growth in the liberal arts and sciences, a notable accomplishment at a university with 17 professional schools.  He also oversaw the construction of new facilities in the sciences. As the incoming dean of AU's College of Arts and Sciences, Starr has placed a high priority on achieving similar gains.  

In his new role, Starr will oversee 39 departments and programs, and more than 350 full-time faculty. These programs have 1,700 undergraduate, graduate, and doctoral students and include 150 majors, minors, master's, PhD, and certificate programs in the arts, humanities, sciences, social sciences, and education.

In addition to being an experienced administrator, Starr is a scholar with an academic background in the liberal arts. He earned his PhD in comparative literature and an MA in French from the Johns Hopkins University, and received his BA in humanities from Stanford University.

Starr replaces Kay Mussell, who has been named the interim senior vice provost and dean of academic affairs.