Environment
Keeping it Green with New Campus-Wide Sustainability Program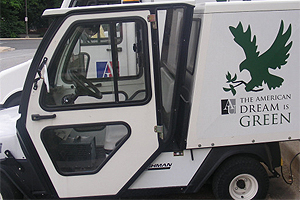 American University is a charter participant, and the first university in Washington, D.C., to enroll in a new national effort to encourage sustainability practices at colleges and universities around the country.  

AU adopted STARS 1.0, a self-reporting framework for gauging progress toward sustainability. A highly collaborative project, STARS (Sustainability Tracking, Assessment & Rating System) has been developed by representatives from colleges and universities, higher education associations, related nonprofit organizations, businesses, and government agencies.

The Association for the Advancement of Sustainability in Higher Education (AASHE) introduced the STARS online reporting tool on January 19 during a Webinar hosted by American University.

"Life at American University is marked by an active pursuit of sustainability," said Chris O'Brien, director of sustainability. "Students, staff and faculty are dedicated to environmental and social responsibility. By participating in this program our community will experience an even greater sense of responsibility."  

American University's push toward sustainability began in the '90s with a rededicated focus to the original campus plan, created by Frederick Law Olmstead. The university revived Olmstead's original design incorporating more gardens across campus.  As a result, in 2004, the National Arboretum and Botanical Garden Association designated AU as a public garden and arboretum.

In spring 2006, AU signed the Talloires Declaration, the first official statement made by university presidents, chancellors, and rectors of a commitment to environmental sustainability in higher education, and in 2008 President Neil Kerwin signed the American College and University Presidents' Climate Commitment pledging that AU would work to achieve carbon neutrality.

Last week, Kerwin signed a suite of sustainability policies, including ones mandating green building, green cleaning, sustainable purchasing, and zero waste. The policies are designed to adhere to STARS recommendations and Leadership in Energy and Environmental Design (LEED) green building standards.

American University is also participating in a pilot program with the US Green Building Council to develop a streamlined approach to green building certification for campuses. A team is working to certify 30 campus buildings to LEED standards, including the new School of International Service building, designed to achieve LEED Gold certification. The new building will open in fall 2010.

In addition, this spring, the university will install a wind turbine and a steam turbine to reduce the university's carbon emissions. This month, the university began composting kitchen waste and is planning to increase the use of biodiesel fuel in its vehicle fleet.

The STARS program provides a guide for advancing sustainability, enables meaningful comparisons over time and across institutions by establishing a common standard of measurement, and creates incentives for continual improvement toward sustainability.

"The advantage of STARS is that all aspects of campus life are taken into consideration with regard to the ability to earn credits," said AASHE Executive Director Paul Rowland. "From providing sustainability coursework, to dorm cleaning products, to energy efficiency in campus buildings, there are lots of opportunities for a school to identify and track its sustainability progress."

To date, more than 115 higher education institutions have registered as STARS charter participants.