Environment
American University Buys 100% Green Power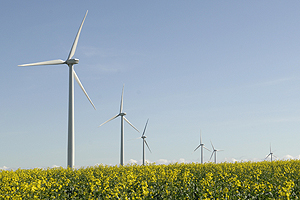 At American University the "American Dream is Green" and with a recent purchase of wind-generated renewable energy credits (RECs) equivalent to 100 percent of the university's 53 million kilowatt hours of annual electricity usage, that dream is becoming reality.

This green power purchase has an impact similar to planting 451,434 mature trees in one year—a forest more than four times the size of the National Mall—or not driving more than 110 million miles in an average passenger car.

According to the EPA's Green Power Partnership, American University is the largest east coast school to purchase 100 percent green power and the 2nd largest in the nation, behind University of California, Santa Cruz (57 million kilowatt hours of annual electricity usage). In the Washington, D.C., Metropolitan area, Catholic University is the only other university green power purchaser (13 million kilowatt hours).

American University is now the 12th largest purchaser of 100 percent green power in the nation, joining Fortune 500 companies and organizations including The World Bank Group, Whole Foods Market and The Tower Companies as 100 percent green power purchasers, also according to the EPA's Green Power Partnership.

"American University strives to be a sustainability leader in higher education. With our location in the nation's capital, we feel a particular responsibility to lead climate change mitigation strategies," said Chris O'Brien, director of sustainability for American University. "In addition to reducing greenhouse gas emissions, this renewable energy credit purchase also enhances the university's educational mission and serves as just one example of our active pursuit of sustainability."


Why Green Power is Beneficial
Green power is generated from renewable resources such as solar, wind, geothermal, biomass, biogas, and low-impact hydropower. American University's RECs are supplied by Colorado-based Renewable Choice Energy through the Langdon Wind Energy Center, the largest wind energy facility in North Dakota.
Renewable energy facilities generate renewable energy credits (RECs) when they produce electricity. Purchasing these credits is a widely accepted way to address the greenhouse gas emissions of electricity consumption. Purchasing RECs in the same quantity as AU's electricity consumption guarantees that the energy used by the university is added to the power grid from renewable sources and supports the further development of these projects. 
"American University's purchase of renewable energy credits for campus-wide electricity use highlights their leadership in the development of this country's renewable energy infrastructure," said Quayle Hodek, CEO of Renewable Choice Energy. "We're excited to partner with American University to reduce its environmental footprint and help new clean energy projects move forward." 
AU's renewable energy credits purchase represents an important step in the University's plan for carbon-neutrality, a plan which it will unveil publicly on May 15, 2010 as part of its participation in the American College and University Presidents' Climate Commitment. 
American University's sustainability programs are earning increased recognition. Earlier this month, the U.S. Environmental Protection Agency (EPA) honored AU as one of the top 54 colleges in its 2009-2010 College and University Green Power Challenge. The university recently placed third in RecycleMania, edging out more than 600 colleges in a competition to reduce waste though recycling. AU is also included in the Princeton Review's just-released Guide to Green Colleges.