Journalism
Journalism Professor Busts Media Myths in Provocative New Book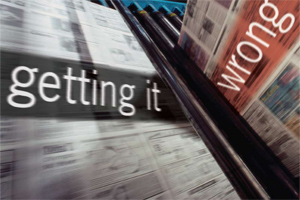 The investigative reporting of the Washington Post brought down Richard Nixon's corrupt presidency. Edward R. Murrow's See It Now television program ended Joe McCarthy's communists-in-government witch-hunt.  William Randolph Hearst helped start the Spanish-American War at the end of the nineteenth century with his vow to "furnish the war."  
All three anecdotes are often retold and widely believed to be true, but they are actually media-driven myths according to the new book, Getting it Wrong: Ten of the Greatest Misreported Stories in American Journalism (University of California Press, 2010).
Written by W. Joseph Campbell, a journalism professor at American University's School of Communication, the book addresses and dismantles these and other prominent media-driven myths—stories about or by the news media that are widely believed but which, on close examination, prove apocryphal.
"These myths can be thought of as the junk food of journalism," Campbell says. "Alluring and delicious, perhaps, but not especially wholesome or nourishing."  
Getting It Wrong will be launched at 2:30 p.m., Saturday, June 19, during the "Inside Media" program at the Newseum in Washington, D.C.  
Why Should We Care?
"Media-driven myths aren't trivial," Campbell says. "They aren't innocuous. They can distort the understanding about the role and function of journalism in American society."
First, these myths tend to give the news media far more power and influence than they possess, and they minimize the complexity of historical events in favor of simplistic and misleading interpretations.
Second, they can feed stereotypes. Take, for instance, the notion that the news media supposedly delivered outstanding coverage of New Orleans in the aftermath of Hurricane Katrina.  
"The highly exaggerated news reports of nightmarish violence in New Orleans after Hurricane Katrina's landfall in 2005 essentially defamed the battered city and impugned its residents during their deep despair," Campbell writes in Getting It Wrong.    
Moreover, Campbell says, debunking media-driven myths is a pursuit aligned with a fundamental objective of mainstream American journalism—that of getting it right.
The Best Recent Book about Journalism
Getting It Wrong has earned rave early reviews. Commentary magazine said: "It may be the best book about journalism in recent memory; it is certainly the most subversive."
In his review at Slate.com, media critic Jack Shafer wrote: "The best tonic for the brain fever caused by media myths is an open mind and a free inquiry. I especially admire the disciplined way Campbell corrects so many flawed records without taking cheap shots at the perpetrators. … Of course when you do such a good job punishing the error, as Campbell does, you don't need to bother with the errant."
Campbell was a professional journalist for 20 years before entering journalism education. He earned his doctorate at the University of North Carolina-Chapel Hill in 1997 and soon after joined the faculty at American University.
He is the author of four other books, including The Year That Defined American Journalism: 1897 and the Clash of Paradigms (2006) and Yellow Journalism: Puncturing the Myths, Defining the Legacies (2001). He frequently blogs about media-driven myths (see "Connections" for link to blog).