Arts
AU Alumni Exhibit Is Artists' Take on School Spirit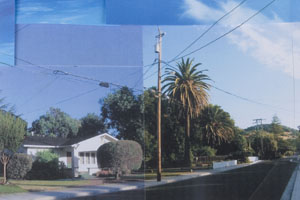 What does school spirit look like? For most people, the words conjure images of pom-poms, school colors, and victory celebrations.
But at American University, school spirit is not limited to athletics—it's also expressed through intellectual and creative exploration, as evidenced by RE-VISION: American University Alumni, one of the exhibitions opening the 2010-2011 fall season of the American University Museum at the Katzen Arts Center on Tuesday, August 31.  
Each artist has a story to tell about his or her experience at AU. The works serve as an illustrative timeline of the art program's development, including approaches to painting styles inspired by The Phillips Collection as well as more contemporary approaches involving fur-covered bricks and iPod animation.  
The exhibition, which closes with the end of  the All-American Weekend (AU's family and alumni weekend) on Sunday, October 24, showcases alumni across several generations—from those who graduated this year to those who studied under Luciano Penay (also opening an exhibition at the museum), Robert Gates, Helene Herzbrun, Ben L. Summerford, Robert D'Arista, and others in the AU Art Department's first wave of faculty.
"How exciting to see the rich, dynamic legacy engendered by the AU Art Department," said Sharon Wolpoff, an alumna whose work is in the exhibition. "As an artist, it's a privilege to realize that I'm part of this extraordinary continuum."
The exhibition includes more than 97 works of by 60 artists, each of whom is an AU alum. Jack Rasmussen, curator and director of the Museum, was one of the individuals tasked with jurying the show. To be considered, the work had to have been created no earlier than the year 2000.
"We were impressed by the 120 alums who submitted work," said Rasmussen, himself an AU alumnus. "Unfortunately, we didn't have enough space to include them all, but the enthusiastic response by our alumni tells me this is a project to be revisited in the not-too-distant future."  
In addition to RE-VISION: American University Alumni, three other exhibitions will open at the American University Museum on August 31: Luciano Penay: Time, News, Paintings, and Natural Forms, BG Muhn: Love Affair of the Empress, and Alan Binstock: Way-Stations. Norse Soul: the legacy of Edvard Munch, social democracy, old myths, anarchy, and death longings, which opened earlier this summer, will also be on display.
Art from Everyday Materials
Luciano Penay, also an AU alumnus, taught art at American University for 26 years. His emphasis on experimentation reverberates from his exhibition Time, News, Paintings, and Natural Forms, a collection of large collages using everyday materials such as beer cans, newspapers, and baby dolls.
This year marks the 60th anniversary of his arrival in Washington, D.C., from Chile. Penay had a long and multifaceted career, starting as an electrical engineer cum art student, professor, curator, and critic.  
He was instrumental in the creation of AU's Katzen Arts Center, as benefactress Myrtle Katzen was a member of his painting circle that continued to meet at American University long after they stopped taking official classes. Myrtle and her friends developed strong ties to the arts at AU partly because of Penay's generosity. The Katzen Arts Center celebrates its fifth anniversary this fall.
The Vulnerable, Human Side of Authoritarian Power
During his visit to the tomb of Qin Shi Huang, the first emperor of China who surrounded his gravesite with a life-sized terra cotta army of warriors, artist BG Muhn said he was at first impressed with the size of the tomb and the technique of those who created each detailed figure.  
But as he marvelled at the site, Muhn said he became overwhelmed with an inexplicable sorrow—one he did not understand until he learned that "the roughly 700,000 artisans employed for this enormous task were said to have been executed after completing it, simply to keep the entire process a secret." All of this so the emperor could remain powerful in the afterlife.
The experience was the inspiration for Love Affair of the Empress, Muhn's first painting installation opening at the American University Museum. The installation features portraits of fictional Chinese empresses as a contrast of authoritarian power and human vulnerability. The techniques range from deadpan official Chinese portrait style to a face composed of hundreds of houseflies glued to the canvas.
"When we see an empress or emperor, we can't really think about anything else but their power," Muhn said. "This is just a mask to me, and through my art I want to take their masks off to show their human side."
Former NASA Architect Sculpts Successful Second Career
Alan Binstock is a former architect with NASA who has been exhibiting on the East Coast for nearly 15 years. His exhibition Way-Stations features large sculptures of steel, glass, and stone that evoke celestial colors and forms.
RE-VISION: American University Alumni and Alan Binstock: Way-Stations, close Sunday, October 24. BG Muhn: Love Affair of Empress, Luciano Penay: Time, News, Paintings, and Natural Forms, and Norse Soul: The Legacy of Edvard Munch, Social Democracy, Old Myths, Anarchy, and Death Longings close Sunday, October 17.