Arts
AU Museum Opens Six New Exhibits by Women Artists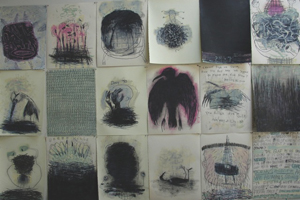 Washington, D.C., is home to 29 named traffic circles. While most people focus on navigating through or around them, artists Nicole Cohen and Marisa Baumgartner, both whose exhibitions are open at the American University Museum at the Katzen Arts Center, are taking a more indepth look at the circles through photography, video, and interactive installations.
Both Baumgartner and Cohen have Washington, D.C., roots—Baumgartner was born in Washington in 1980 and Cohen grew up in Dupont Circle.

Nicole Cohen: Driving in Circles consists of large scale drawings, video projections, and prints focusing on Washington, D.C.'s Ward, Dupont, Garfield, Washington, and Observatory circles.
Cohen is known for creating work that overlaps past and present scenarios, creating a sense of time travel. Driving in Circles, her third solo museum exhibition, keeps with that theme as video technology will allow visitors to project themselves into scenes depicting the traffic circles at different points in time.
Cohen chose to focus on the circles because they're representative of the ways that people intersect on a daily basis. Please Be Seated, her commissioned work at the J. Paul Getty Museum in Los Angeles, drew rave reviews for its unique medium and its combination of contemporary art and art history.
Marisa Baumgartner: Grande Avenues presents a combination of photographs, text, drawings, photographic installation, and video focusing on D.C.'s traffic circles, why specific statues were chosen for certain ones, and the history of designing D.C.
The centerpiece of the exhibition is a nod to the museum's location on Ward Circle: an image of Major General Artemas Ward that covers the museum's main, double-height window. Composed of thousands of transparent vinyl dots, the installation creates simultaneous views of the real monument and the interpreted visual.   
Both exhibitions opened at the museum Tuesday, January 25, alongside four other exhibitions by women artists: THE DARK AND HUMOROUS MIND OF HEATHER WILCOXON, Dafna Kaffeman: What Could Be Sweeter Than Going to Paradise?, Julie Linowes: STAIN, and Linn Meyers: A Very Particular Moment. All six exhibitions close on Sunday, March 13, 2011—two weeks into national Women's History Month.  
Cartoons with a Dark Side
THE DARK AND HUMOROUS MIND OF HEATHER WILCOXON is a collection of about 50 cartoon-like, absurdist images that comment on the troubles of modern society.
"My cartoon characters represent both the comedy and tragedy of humanity," said Wilcoxon. "In their childlike iconography, they embody a sense of innocent playfulness, yet in their monstrous rendering a dark humor is reflected."
The exhibition includes Sludge, 36 drawings about the 2010 Gulf of Mexico oil spill. Wilcoxon based her creations on images of the devastation.
"What I found was shocking and painful to look at—hundreds of images of dead and oiled birds as well as burned turtles," Wilcoxon said. "Everyday, I would draw several new images until I was drained of emotion."
Israeli-Palestinian Conflict Expressed in Glass

Dafna Kaffeman: What Could Be Sweeter Than Going to Paradise? focuses on the Israeli-Palestinian conflict and the fragility of nature, as exemplified by her new work, Mantis Religiosa, which combines glass renditions of native Israeli plants and insects placed on or around six handkerchiefs, each embroidered with a portion of a quote from a would-be suicide bomber.
Kaffeman, a glass artist who lives and works in Israel, uses glass to mimic the natural—plants, animal fur, and coral—in stunningly life-size creations.
The handkerchief text "But I have come to detest life, although I loved a girl who was a year younger than me, and my family planned to ask for her hand, one day before I set out for the operation. I love her very much." is from a 2003 Haaretz newspaper article quoting "M.", a man whose attempt to execute a suicide bombing attack in Israel was thwarted.
Kaffeman chose plants and insects for their beauty and complexity, including the namesake of the work, the praying mantis (selected because of the suggested connection between religion and violence—female praying mantises look as if they are about to pray before preying on their mates).
Disturbing Images Made Beautiful, Hand-Drawn Art Done On-Site
Julie Linowes: STAIN  creates emotionally wrought video installations in which beautiful, translucent images are layered disturbingly against spreading, seeping lacunae. Some of Linowes' works include emotionally disturbing content, such as blood and pig carcasses, but the sum of the parts is so beautiful that the disturbing images catch viewers by surprise.
Linn Meyers: A Very Particular Moment responds to the architecture of the museum by covering the walls with hand-drawn, repetitive, geometric lines—creating a hypnotic, meditative space. Meyers will spend two weeks in the museum creating her largest temporary drawing to-date on a 23 ft x 32 ft. wall in the museum's third floor gallery.
The American University Museum at the Katzen Arts Center is open from 11 a.m. to 4 p.m. Tuesday through Sunday. Admission is free. For more information, call 202-885-1300 or visit the museum's Web site.