Communications
Fighting for Your Right to be Creative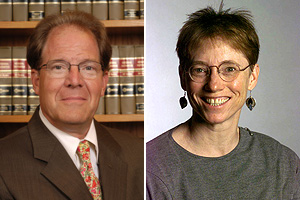 For students, educators, filmmakers, bloggers, YouTubers, Sunday school teachers, cultural commentators, and anyone else who produces creative material necessitating the use of copyrighted material, traversing the vague and complex world of copyright law is a daunting task. The threat of lawsuits forces many to alter their product or abandon projects altogether. 
In their new book Reclaiming Fair Use: How to Put Balance Back in Copyright, American University professors Patricia Aufderheide and Peter Jaszi quell the fears and empower creativity by embracing an underused and misunderstood concept in copyright law: fair use.
The book, due out later this summer, has already started to garner attention.  Last week, The Chronicle of Higher Education featured Aufderheide and Jaszi's work in an issue covering copyright.
Fair use is the right to use copyrighted material without permission or payment under certain circumstances.  Reclaiming Fair Use helps readers understand how to think about and use copyright.
"We share a commitment to the notion that with the right information and education, people can and should make their own decisions about their creative and cultural choices," wrote Aufderheide and Jaszi.  "Fair use becomes real only when people use actually use it; like a muscle, it can shrink with disuse."
For more information on fair use, please visit the School of Communication's Center for Social Media and Washington College of Law's Program on Information Justice and Intellectual Property.
####