Arts
New Exhibit Trains Camera Lenses on the Environment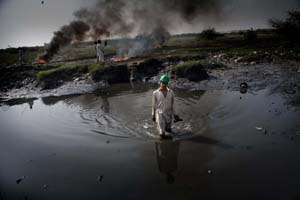 River degradation. Torrential rains in Brazil. The consequences of nuclear power in Eastern Europe. All environmental issues captured through the lenses of professional photographers in the exhibition E • CO, showing at the American University Museum at the Katzen Arts Center beginning Saturday, June 4.

The exhibition is the culmination of the works of 20 photo collectives (groups of photographers who showcase their work together) from across Latin America and Europe.  It was first shown in Madrid, Spain, in conjunction with E • CO 2010, a meeting organized by the Ministry of Culture of Spain to highlight professional photographers' challenges and needs in the rapidly evolving digital media landscape.  

Each collective has a different take on what "environment" means and how to present it. A Mexican collective focuses on a "rainmaker" (a man in Mexico who survived a lighting strike as a child and believes according to pre-Hispanic tradition that he has the ability to talk to nature and ask that water sprinkle his crops).  A Portuguese collective uses images of mounted and stuffed animals (taxidermy) to focus on the loss of biodiversity in Portugal.  A Spanish collective's work shows how the cost of responsibly disposing of electronic waste has led to uncontrolled contamination of third-world nations.

Following in the footsteps of Visual Politics: The Art of Engagement, Calentamiento Global ("Global Warming"), Close Encounters, Georgia June Goldberg: Emergence, and THE DARK AND HUMOROUS MIND OF HEATHER WILCOXON, E • CO is the sixth exhibition featuring environmentally focused art to show at the museum.  

"It is not just the case that more artists are turning their attention to the environmental challenges we are facing today," said Jack Rasmussen, director and curator of the American University Museum. "Everyone is more focused on climate change and the sustainability of our food, water, air and energy. Our survival depends our ability to focus."

E • CO, cosponsored by FotoDC and Spain Arts & Culture 2011, opens at the museum alongside another new exhibition:  Registro 02, Mirar por segunda vez (Record 02: A Second Glance). Sam Gilliam: Close to Trees remains open on the museum's third floor.  All three exhibitions close Sunday, August 14.    

Mexican Art Explores Influence of Artist and Audience  
 
Is a work of art defined by the artist's intent and methods, or do the people viewing it help define the work through their perceptions of it?  Registro 02, Mirar por segunda vez,an exhibition encompassing the works of four individual artists and one collective, sets out to show that both the artist's process and the audience's perception help inform art's meaning.

The exhibition includes paintings, drawings, video, and digital animation.  All of the artists live in or near the Mexican city of Monterrey.

In his paintings and drawings, Ramiro Martinez Plasencia depicts scenes involving characters inspired by comic book characters—several works feature figures clad in Superman's iconic red and blue suit complete with cape.  

The work of Rubén Gutiérrez is described as shifting between the criticism of the media and the elaboration of projects that reformulate images taken from media, including movies, advertising, and fliers/handouts.

Works by Adriàn Procel, Oswaldo Ruiz, and the collective Tercerunquinto (members are Julio César Castro Carreón, Gabriel Càzares Salas, and Rolando Flores Tovar) complete the exhibition.   

Curated by Jorge Contreras, Registro 02, Mirar por segunda vez, was originally assembled by the Museum of Contemporary Art in Monterrey, one of the leading cultural institutions in Latin America devoted to promoting international contemporary art.  The exhibition's showing at the American University Museum is cohosted by the Mexican Cultural Institute in Washington, D.C.

A Forest of Art

Sam Gilliam first took his paintings off their stretchers in 1965, using the liberated canvases to transform gallery walls into three-dimensional abstractions. He has continued to experiment with the practice of painting and the line between painting and sculpture.

For Sam Gilliam: Close to Trees,Gilliam uses unstretched painted and stained fabric to transform the 7,000 square foot space of the third floor of the museum into one dynamic and colorful work of art.

Gilliam is renowned as one of America's key Color Field painters and Lyrical Abstractionist artists and was the first artist to introduce the notion of a painted canvas hanging without stretcher bars.

The American University Museum at the Katzen Arts Center is open from 11 a.m. to 4 p.m. Tuesday through Sunday. Admission is free. For more information call 202-885-1300.