On Campus
Chronicle of Higher Education Recognizes Faculty Leadership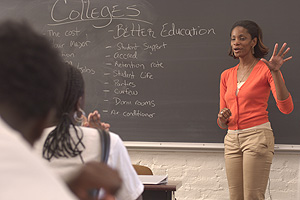 A recent two-page feature article in The Chronicle of Higher Education has outlined significant changes to American University's faculty policies driven by a shared governance structure between the more than 1,300 faculty and the Faculty Senate.

"What set American University apart from many of the nation's other colleges is how aggressively it is adapting its governance structure and policies to today's academic work force," read the article.

Changes to faculty structure will "help the university attract and retain talent" according to Virginia (Lyn) Stallings, past chair of the 2010-11 Faculty Senate, and one of many faculty members instrumental in making changes to the Faculty Manual and other policies.

The article notes that AU has bucked national trends in recent years making efforts to establish more full-time, tenure-track jobs and convert adjunct positions into more secure, term faculty jobs.  

This fall, for example, approximately 32 new tenure-track faculty members will arrive on campus to begin their teaching and scholarly careers at AU.  

"It is a fundamental shift we have had," said Provost Scott Bass to The Chronicle. The university's strategic plan goal to epitomize the scholar-teacher ideal is one of the underlying elements of this shift.
Read Article: Faculty Leaders at American U. Seek Old-School Rights for a New Work Force