In the Community
'To thine own self be true'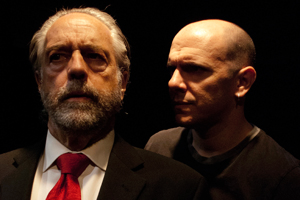 Why would a defense budget expert venture from Washington's political theater to appear on its theatrical arts stage? School of International Service professor Gordon Adams, who served as the senior White House budget official for national security in the Clinton administration, says, "It is a great outlet for creative, right brain work, bringing balance to my life."
For a few weeks this summer, Adams has been straddling both theater worlds watching the defense drama unfold on Capitol Hill and also literally taking to the theatrical stage as an actor in We Happy Few's production of Shakespeare's Hamlet playing Polonius, Bernardo, Player King, and Priest during the Capital Fringe Festival.

The adaptation of Hamlet which runs 90 minutes per Capital Fringe Festival rules explores the idea of whether Hamlet was imagining everything around him. Adams says, "This is Hamlet like you've never seen it." He explains, "The conceit of the play is that this entire series of events – King Hamlet's death, the remarriage of Hamlet's mother to King Claudius, the murder of Polonius, the death of Ophelia, and, ultimately, the death of Laertes, Claudius, and Queen Gertrude, are possibly all in Hamlet's mind."

Asked if there are any similarities between Hamlet and Washington, Adams responded, "Washington politics are figuratively bloody; Hamlet lets it all bleed on stage, where eight people actually die." Inquiring about his role as Polonious, Adams says, "Polonius is a fascinating character – an apparent blitherer who is clever and manipulative. Sort of a combination of Thomas Cromwell and Henry Kissinger."

No stranger to the theatrical spotlight, Adams was in a Shakespeare Theater Company production of Shakespeare's Merchant of Venice last summer. He's also been in more recent DC theater productions such as Hercules in Russia, Blackbird, and Endgame. Reviews are calling the small ensemble version "a new approach to Shakespeare you will not want to miss." Adams in his four roles is among just five other actors taking on multiple characters which help to blur the lines between reality and what might very well be Hamlet's fantasies. It creates a conflict within Hamlet that perhaps even the great Stratford Bard could not have imagined. Combined with today's 21st century audiences appetite for entertainment no longer than the latest Hollywood summer blockbuster and wanting more twists and turns than the plot lines in the Bourne trilogy, Hamlet is delivering in ways that even Shakespeare might admire.

There is still time to catch Gordon Adams in this latest adaptation of Hamlet which runs until July 28 at the Meade Theatre Lab, 916 G. St, NW. For tickets, go to the Capital Fringe website.