Research
Research Center Focuses on Critical Issues for Latinos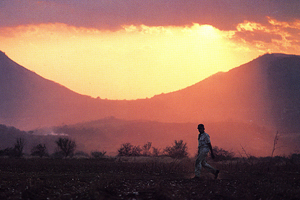 Latino children, as a whole, lag behind their Caucasian counterparts in academic performance.

In the Washington area, many Latino entrepreneurs are constrained in planning their businesses because, for them, entrepreneurship is not a road to building a firm but rather a response to unemployment.

What's causing these discrepancies, and how can they be corrected? As National Hispanic Heritage Month draws to a close on October 15, American University's Center for Latin American and Latino Studies continues its research on these and other critical problems.

"We see ourselves very much as an incubator of ideas and a developer of high-quality investigations that result in products that change the way the world thinks about Latin America and about Latinos in the United States," says Eric Hershberg, the center's director.

Founded in 2010, the center has 75 affiliated faculty, plus dedicated researchers and fellows. It has brought in more than $1 million in grants and currently is conducting more than 20 projects examining issues in the U.S. and Latin America.

"The provost gave us a mandate to finish a five-year period recognized as one of the top centers for Latin American and Latino studies in the country," Hershberg says. "I think the volume and quality of research that is being undertaken under the auspices of the center exceeds that of just about any other center in the country."

Take, for example, the center's project with CentroNia, a community service organization in Washington's Columbia Heights neighborhood. Meredith Glueck, the center's program manager, has been working on a study with AU professors Noemi Enchautegui-de-Jesus and Dennis Campbell, director of the Collaborative for Urban Education, Research and Development, that looks at the importance of an arts-based after school program.

"There were two phases of the project," Glueck says. "The first was to look at ways they could improve the administration of that program. Then we looked at how this program impacts their kids' (ages 5 to 12) academic performance and their social and emotional development."

The results will be released soon, and Hershberg said the preliminary findings are telling.

"We have anecdotal sense that there are changes in these kids' self esteem," he says. "There are greater degrees of interest in the notion of learning, a greater positive sentiment with regard to being at school. Our hypothesis is that over time that begins to reverberate in conventional indicators of educational achievement."

Another project is being done in conjunction with the Kogod School of Business, including Professor Barbara Bird, and the Latino Economic Development Corporation (LEDC).

"We're studying the decision-making patterns amongst Latino entrepreneurs, in particular looking at the ways they plan their businesses and the kinds of time horizons they work with," Hershberg says. "This comes out of observances of LEDC staff that planning glitches are part of what holds back some of these businesses and literature in the study of entrepreneurship that looks at time horizons and planning as a critical determinant to success."

A primary motivation for starting a business among the 60 enterprise owners in the Washington area who have been interviewed for the project seems to be avoiding unemployment, Hershberg said. Like many of the center's projects, the final report will not mark a conclusion but a first step in more research.

Some of the center's other projects include:
a soon-to-be-released book, New Institutions of Participatory Democracy in Latin America: Voice and Consequence, funded by a Ford Foundation grant, which examines the emergence of new institutions that provide building blocks for more participatory democracy in eight Latin American countries
a study, funded by a $375,000 grant from the Luce Foundation, on how religions and religious actors responded to human rights abuses in Latin American countries during periods of dictatorships, and how they respond today to violence in countries that now are democratic
hosting InSight Crime, a team of journalists that cover organized crime in Latin America
an agreement with the Mexican Ministry of Culture to bring some of the country's leading cultural producers and arts intellectuals to AU over the next three years, including on November 1 when AU will host the Mexican documentary film organization Ambulante in a panel discussion and screening led by School of Communication professor Pat Aufderheide at the Katzen Arts Center
a weekly podcast, Latin Pulse, produced by SOC professor Rick Rockwell
a multi-year project, funded by the Ford Foundation, on the composition, transformation, and role of elites in Central America

a blog that focuses on Latin American public affairs and U.S.-Latin American relations
Nearly three years into its existence, the center is well on its way to achieving the provost's goal.
"We want to produce scholarship that reaches users of knowledge," Hershberg says. "That can be governments, that can be embassies, that can be advocacy groups, it can be schools. It's an agenda that's in the public interest."