Humanities
Active Internships Kick Start Careers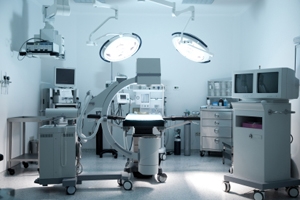 Samantha Amberg, CAS '13, is one of few American University students to have worked in an operating room as an undergraduate.
Amberg, a biology major in the College of Arts and Sciences, found out about an internship opportunity at DaVinci Plastic Surgery during her junior year and couldn't pass it up.
Though most of her time at DaVinci was spent tracking supply inventories and maintaining medical records, for Amberg, watching and assisting with surgeries was the most valuable part of her experience.
During operations, she prepared surgical tools and materials, scribed and kept track of the time, and served as a general assistant for physicians—tasks most medical students don't get to do until their second or third year of medical school.
Amberg quickly learned that a day in the operating room can be quite stressful, typically starting at 6 a.m. and ending at 5 p.m.
"Being in the operating room is like running a very stressful marathon," Amberg said. "The first few times I assisted with surgery, it was a deer-in-headlights situation. But I learned quickly and eventually was able to be of greater help to the team, while also learning how to deal with this crazy schedule."
American University is known for fostering an environment that promotes active internships like Amberg's. The class of 2012 set a new school record, with 88 percent of students completing at least one internship before graduation. 
Like Amberg, they're not all interning in fields like politics, international service, and communications—traditional strengths of AU. They're interning in all corners and sectors of Washington, D.C.
"Internships help [students in smaller programs] achieve professional goals in the same manner as any other student by adding specific skills and accomplishments that supplement in the classroom experience," said Sue Gordon, director of career development in the Career Center.
When Maria Schneider, CAS '13, tells people she majors in American Studies, the first questions she has to answer are "What's that?" and "What do you want to do with that?"
Luckily, Schneider has a response for both questions. Throughout her coursework, she has focused on education reform, specializing in programs for disadvantaged youth. To supplement her studies, she currently interns at City Kids Wilderness Project, a nonprofit that focuses on outdoor education and leadership for D.C. middle and high school students.
As part of her internship, Schneider organizes weekend retreats that focus on topics like diversity and social justice with the students.
"Most people don't even think of something like this as a possibility for an internship," Schneider said. "I think it's important that students know that there are opportunities in D.C. to satisfy every possible interest."
Schneider's work with City Kids reminds her every day why she is pursuing a career in the education field. Her internship has also helped her land a job teaching middle school Spanish in New Orleans through Teach for America following graduation in May.
"Through internships, students hone their skills and capabilities to build a strong resume and become a more competitive job applicant," Gordon said.
Swathi Nuli, CAS/SPA '14, is taking advantage of another D.C. institution—the National Institutes of Health. Like Amberg, she interns in the science field, but their internships and long-term goals couldn't be more different.
Nuli, a pre-med student majoring in psychology and justice/law, interns at NIH's Institute of Allergens and Infectious Diseases. At NIH, Nuli helps proofread manuscripts from around the world, creates visuals for scientific publications, and assists with HIV research.
"My job [at NIH] has been one of the most influential opportunities I have had as a pre-medical student at AU," Nuli said. "I think a lot of political science and School of International Service majors at AU come to D.C. to work with the top politicians in the world, and I feel similarly fortunate to be working with the top scientists."
Nuli said that her NIH experience inspired her to bring a chapter of Phi Delta Epsilon, an international medical fraternity, to AU. She points to engaging and helpful mentors as the most important resource for pre-med students. 
Nuli will be extending her HIV work by volunteering in South Africa this summer and said she hopes to stay in this field for the long run.
Amberg, on the other hand, decided to pursue a new field after her time with the plastic surgeons. After interacting with patients and hearing their individual stories, Amberg discovered that her true passion is in psychology. She is grateful for her internship experience and the fact that it gave her a clearer vision of her future goals.
"My time at DaVinci has given me so much more than another bullet on my resume," Amberg said. "I've gained plenty of practical skills, but my most valuable takeaways are intangible: how to behave in a professional environment, how to interact with clients, and how much I can accomplish if I push myself."