Alumni
Rising Stars on the World Stage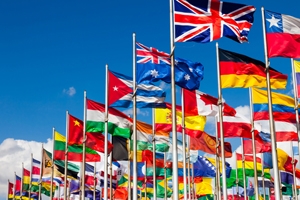 The Diplomatic Courier and Young Professionals in Foreign Policy recently released the "Top 99 under 33" for 2013, a list identifying the 99 most influential foreign policy leaders under age 33.
Meet the five former American University students who made the list for their creativity and leadership.
Jehan Balba: The Convener
Based in Nairobi, Kenya, Balba is a regional program development manager with Relief International. She deals with donor relations, fundraising, and program design for humanitarian issues in Kenya, Somalia, Sudan, and South Sudan. She previously spent three years working in Sudan and South Sudan, the latter a nascent country that gained its independence in 2011. "This enabled me to be there through so many historic moments, including the creation of a country," she says.
Balba was born in Scotland. Since her father is an environmental scientist, her family frequently relocated to the nearest ecological disaster sites. "We moved to Buffalo after Love Canal in the 1980s, and then we moved to Kuwait after the first Gulf War because of the oil fires," she says. "Moving as much as I did when I was young really set me up to be a person who moved a lot when I was older."
At AU, Balba earned her bachelor's degree in English literature, but she befriended a number of politically-conscious students on campus. Interestingly enough, one of those students was Pete Muller, now her husband and also a DiplomaticCourier-YPFP honoree.
Pete Muller: The Shaper
Also based in Nairobi, Muller is an award-winning photographer and contributor to The New York Times, The Washington Post, and other publications. In 2011, Time magazine named Muller wire photographer of the year. Having done extensive work on South Sudan's transition to independence, he described his work as partly "exploring the social fabric of the place."
A Marblehead, Massachusetts native, Muller comes from a family of photographers and visual artists. He earned his bachelor's degree in history from AU in 2005 and immediately left for an overseas assignment. Originally a print journalist in the Palestinian territories, Muller believes in a comprehensive approach to news gathering. "I think pictures are inherently limited. I think words are inherently limited," he says. "I really believe in utilizing everything at your disposal to be able to tell the story."
Brandon Scott and Alice Friend: The Practitioners
Scott is based in Yemen and is founder and CEO of 361Security, an open source intelligence firm. His firm streamlines open source intelligence into one destination, and it provides a platform for analysis from up-and-coming academics.
Scott's interest in global affairs was sparked by reading about U.S. foreign policy as a teenager. And his fascination intensified after a trip to a notorious global hotspot. "It did not really hit me until I was standing at an observation point along the North Korea border in 2001," he explains. "I realized what I was doing and looking at was exactly what I used to watch on CNN. That blew my mind." In 2004-2005, he got combat experience in Iraq and worked on a tactical human intelligence team. "That was one rough year that changed me in so many ways it would take an entire book to illustrate," he says.
Scott came to AU as a transfer student on the GI Bill in 2007 and studied international relations. Before his recent arrival in Yemen, he was based in Afghanistan as an intelligence analyst and an inform & influence activities officer. One of his roles was facilitating State Department grants to Afghan youth organizations. At a civil society conference, he was inspired by a young girl who, in his words, "began really schooling" some of the elders on women's rights and female engagement. "To see a young female Afghan taking the courage to stand up to generations before her and demand equal rights was just inspiring. It really made me believe that Afghanistan is not going back to what it once was."
Friend is principal director for African Affairs in the Office of the Secretary of Defense. She started working at the Defense Department in 2009 as special assistant to the under secretary of Defense for policy. Friend has also been a researcher for think tanks such as the Center for Strategic and International Studies and the Center for a New American Security. She received her master's in international affairs from AU in 2006.
Mounir Ibrahim: The Influencer
Ibrahim is a foreign service officer with the State Department. He's been immersed in the highly volatile situation in Syria: He was Foggy Bottom's liaison with Syrian opposition, civil society, and religious figures, and he observed massive protests and provided first-hand accounts as events unfolded. Ibrahim earned a bachelor's degree in international studies from AU and a master's in international affairs from Columbia University.
The Diplomatic Courier is a global affairs magazine, and Young Professionals in Foreign Policy is a nonprofit, nonpartisan organization with branches in Washington D.C., New York, London, and Brussels.