Achievements
Latino Community Recognizes AUWCL, Dean Grossman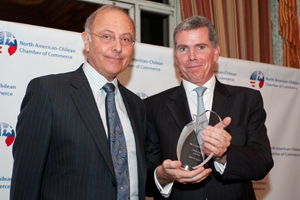 American University Washington College of Law (AUWCL) has been named the number one law school for Hispanics by Hispanic Business magazine. The publication's 2013 Annual Diversity Report ranks law schools based on enrollment, faculty, reputation, retention rate, and the use of progressive programs to recruit, support, and mentor Hispanic students.
Hispanic Business is especially recognizing AUWCL for a student body made up of 15.6 percent Hispanic students and having 13.5 percent Hispanic full-time faculty members. These numbers are not surprising; AUWCL has been admitting classes with a diversity rate of 30 percent or more for nearly a decade. The 2013 fall class was made up of 40 percent minority representation overall, more than 12 percent are Hispanic students. 
"It is an especially remarkable achievement that WCL is ranked number one for Latino students in the nation, when we are not located in a region known for its large Latino population—like Southern California, Texas, or South Florida," said Tony Varona, associate dean for faculty and academic affairs.
"A big reason why we received the top ranking in Hispanic Business is that our dean, Claudio Grossman, is one of the most prominent Latino legal academics in the nation. Thanks to Dean Grossman's leadership and vision, our law school has grown significantly more diverse, entrepreneurial, and vibrant during the last two decades, incorporating innovations in legal education—especially experiential learning and social justice practice—that many Latino law school aspirants find particularly attractive."
But the law school isn't the only one receiving accolades from the Latino community as Grossman was also recently named Academic of the Year by the North American-Chilean Chamber of Commerce (NACCC) at its annual awards dinner Sept. 18.
The NACCC is a network of business executives based in New York City that fosters business between Chile and the United States. Representatives from nearly 300 of the top corporations that invest in Latin America attended the event at the New York Athletic Club—as well as members of the diplomatic community, including the Ambassador of Chile to the United States Felipe Bulnes.
"I see this award as a recognition of the work done by American University Washington College of Law, a law school founded by women and a key voice in the nation and the world for the promotion of diversity and fundamental values of human dignity through our numerous programs," Grossman said upon accepting the award. "I also see this award, more than a personal recognition, as an affirmation of the importance of devoting all of our joint efforts to protecting and strengthening human rights for every human being, wherever they may be."
As part of the annual gala, Grossman delivered the keynote address, titled "Freedom of Expression in Latin America." He discussed the Rule of Law and the impact of censorship, contempt laws, seizing or barring publications, excessive subsequent liability for libel and slander, and other measures that compromise freedom of expression.
"Freedom of expression, presents a distorted reality from becoming normal," said Grossman in his address. "The rule of law is a crucial value for that endeavor. It is a value essential for freedom and the environment required for progress and private initiative."
Grossman has also nurtured AUWCL's involvement in the Hispanic legal community, including spearheading an Annual Hispanic Law Conference held at AUWCL. The conference has been held for 16 years and is co-sponsored by the Hispanic Bar Associations of Maryland, Virginia, and the District of Columbia. Each spring, the conference brings together Latinos from across the country and hemisphere to discuss the evolving legal landscape. The 2013 conference attendees focused on the changes and challenges of the current legal market and strategies for supporting Latino students in legal education.  
AUWCL and Grossman are also involved in numerous initiatives and court cases that impact the Rule of Law in Latin America. Recently, the UNROW Human Rights Impact Litigation Clinic students and director traveled to Costa Rica for a hearing before the Inter-American Court on Human Rights. The group—consisting of law students Marie Soueid, Sydney Pomykata, and Michaela Spero, and Clinic Director Ali Beydoun—joined Grossman and Professor Juan Mendez as they presented the case Brewer Carías v. Venezuela. The UNROW Clinic provided research support to Grossman, Mendez, and the other attorneys for the case.