Arts
Late Fall Exhibits Offer Whimsy, Political Intrigue, and Culture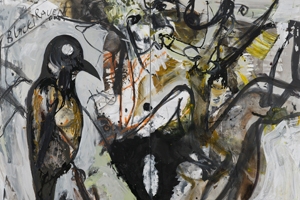 Six new exhibits will show at the American University Museum at the Katzen Arts Center starting Tuesday, Nov. 5, each with their own distinct flavor, ranging from abstract Israeli paintings and whimsical furniture to photographs from Siberia, and paintings of salt water taffy and donuts. The exhibits will run through Dec. 15. In observation of the Thanksgiving holiday, the museum will be closed Nov. 28 and 29.
Among the highlights is the exhibit Tsibi Geva: Paintings, which features the work of Tsibi Geva, an Israeli artist who has dedicated much of his career depicting the keffiyeh—an Arab head-covering which has been a symbol of the Palestinian struggle against the occupation in Israel. As a shroud, the onlooker of Geva's painting can experience the point of view of those behind the veil. It conceals identity while representing a barrier. Through his abstract, complex paintings, he illustrates the darkness, resistance, and personal struggle of Palestinians since the Intifada, or Palestinian uprising, while providing a modern twist. Geva also expresses the feeling of isolation through his depiction of birds that characterize the inner turmoil, anxiety and despair felt among Palestinians.
Geva, who currently serves as a professor and program director of the art studies at the Beit Berl College School of Art, is scheduled to speak at the Katzen at 3:30 p.m., Saturday, Nov. 9.
"With the help of the Schir Foundation, we thought there might be a way for the American University Museum to participate in an exhibition that traveled from Tel Aviv to Berlin. Two years later our thoughts have materialized," said Jack Rasmussen, director and curator of the American University Museum. "It is difficult to describe in words the ideas, beliefs, and emotions carried by one of Tsibi Geva's paintings. They are, of course, masterfully painted. But they are also deeply felt. There is a humane empathy expressed in them that is so moving. Most importantly, even in their darkest passages, there is hope."
Geva has had numerous one-person shows in various institutions, including The Israel Museum, Jerusalem; the Tel Aviv Museum of Art; the San Gallo Art Station in Florence, Italy; the Annina Nosei Gallery in New York; and the Institute of Contemporary Art in Boston.
Recognizing Russia's Amazing History of Photography
For the first time in the U.S., SIBERIA in the Eyes of Russian Photographers provides both an historical and a current view of Siberia, as well as a glimpse into its varied geography and diversity through 165 photographs. Curated by Lea Bendavid-Val and organized by the Foundation for International Arts & Education, these photographs span more than 150 years—between the 1860s and 2011. A book published by Prestel Publishing will coincide with the opening of the exhibition. The exhibit is supported by American University's Initiative for Russian Culture and The Russian Union of PhotoArtists and PhotoSoyz Agency.
"Russia has an amazing history of photography which continues today and deserves to be recognized," Rasmussen said. "First, 'SIBERIA' looks concretely at what photography does and doesn't do—how photography is a powerful eyewitness and how photography simultaneously deceives; and second, in showing photographs made inside Russia, 'SIBERIA' expresses the importance of viewpoint in considering work."
A Reporter and Interpreter of Human Emotions
The oil paintings of Lisa Montag Brotman: What Can I Say? center on the female figure, often set in splendid, unsettling, suggestive spaces that tease reality but are ultimately transformed. Some titles are painted on the surface of its painting to emphasize the interplay of text and images, amplifying each work's emotional and psychological content.
"I see myself as a reporter and interpreter of human emotions – a visual reporter," said local artist Lisa Montag Brotman, whose work has exhibited at The Corcoran Gallery of Art, American University Museum at the Katzen Arts Center, The Washington Project for the Arts, and Rockville Arts Place. "In my paintings and drawings, I express a personal vision of a universe that is somewhat askew. My work focuses on psychological investigation and ruminations in a world I see as humorous, tragic, exquisite, frightening, bizarre, and mysterious."
Playful Design and Adornment of Chairs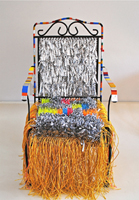 Joel D'Orazio: Pull Up a Chair challenges the viewer's assumptions about design, utility and comfort through the playful design and adornment of chairs.
"I incorporate new synthetic materials such as cables, tubes and strings, into the design of modern chairs," said Joel D'Orazio, who began his career as an architect more than 25 years ago. "My approach is at once respectful of the original piece, but also a bit outrageous. My background as an architect, furniture designer and sculptor contributes to my fascination with chairs. My instinct leads me to stay with their original shape but wrap them in a taut, expressive and textured skin of various materials to create a new volumetric piece. With a number of the iconic mid-century chairs I play with the idea of motion vs. the stationary object. I use cable to partially envelop a chair while letting its expressive legs remind us of its origin."
Other Late Fall Exhibits at the AU Museum
Two other exhibits to show at the AU Museum are: Ed Bisese: Alive and the Visiting Artist Series:Tracy Miller and Hilary Harnischfeger. Miller and Harnischfeger will be at AU as visiting artists to the Studio Art program. The Visiting Artist Series is sponsored by the AU Department of Art and curated by Tim Doud.
Ed Bisese: Alive showcases illustrative and imaginative characters that continue to make light of reality, utilizing Gwyneth Paltrow, hula girls, and other friends as inspiration. Ed Bisese, a landscape architect based in College Park, MD, is known for large-scale painted portraits, oversized heads, and walk-in sculpture made of everyday materials. His work is hilarious and contemplative, poking at the tenuous relationship between wonder and paranoia.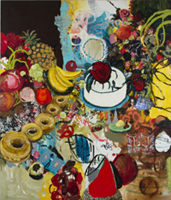 Tracy Miller is known for her still-life paintings of food, including tarts, donuts and shrimp. She makes paintings that flirt with conventions of landscape, still-life, abstraction, and representation. The paintings house a chaotic array of foods and flowers, at once delectable and disgusting in their abundance. Miller simultaneously paints abstract networks of shapes, where recognizable objects double as dumb forms—flat and impenetrable.
Hilary Harnischfeger makes wall-mounted compositions as well as sculptures. She employs varied materials in her wall-works such as paper, plaster, clay, ink, and chunks of rock and quartz to create tactilely seductive pieces that straddle the line between two- and three-dimensionality. In her freestanding sculptures, she mines the meeting point between abstraction and materiality, using clay to lend her objects a fleshy, corporeal quality.
Just outside the Museum in the Kreeger Lobby, another exhibit, Fragments of a Larger Whole illustrates printscurated by the Contemporary Art Centre in Vilnius, Lithuania in partnership with the Embassy of Lithuania. Tasked to delineate in full the most important points in Lithuanian art during the last 20 years, this exhibit questions the possibility of a fragment in what should be representative of Lithuanian art, using 20 of the most prominent artists or works.