Television & Film
Reporting Lone Survivor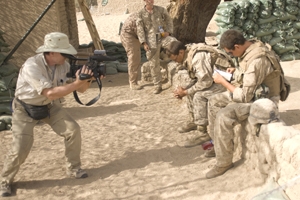 The protracted war in Afghanistan has engendered both brutality and heroism, with a cast of characters ready-made for cinema. And the landlocked tinderbox has inspired both blockbuster action movies and illuminative documentaries. American University School of Communication professor William Gentile is preparing to release a short film, tentatively titled Reporting 'Lone Survivor,' which offers an alternate look at the events surrounding the ill-fated Operation Red Wings mission that left 19 U.S. special operations personnel dead in 2005.  
Watch the trailer for Reporting 'Lone Survivor'

The same operation was recently depicted in the movie Lone Survivor, which stars Mark Wahlberg and is nominated for two Academy Awards (best sound editing and best sound mixing). It's based on a best-selling book by the actual lone survivor, former U.S. Navy SEAL Marcus Luttrell. Gentile was in Afghanistan while the real-life "Lone Survivor" tragedy unfolded, and his new film spotlights the intrepid journalists who reported on it.
"I'd like to get some material back out in front of people because it shows how foreign media cover these conflicts," says Gentile. He's now in the process of finishing the film and is looking for potential distribution outlets. Gentile has gotten extensive editing help from Jason Kurtis, an AU grad from 2006 who is currently a student in the digital media skills online certificate program at SOC.
Breaking the News
In the summer of 2005, Gentile was making another film for his foreign correspondence class when the story broke. "We got the news that a Chinook helicopter crashed, with 16 special forces guys on board," he recalls. The Taliban shot the helicopter down, killing everyone. It was later discovered that the forces had been on their way to assist four Navy Seals, including Luttrell.
Gentile was closely following veteran New York Times reporter Carlotta Gall, BBC correspondent Andrew North, as well as journalists for Time and the Associated Press. Gentile praises their diligence and fact-finding skills, and he hopes to convey the value of quality journalism in this film.
"The media has a bad rap these days," Gentile says. "I believe there are a bunch of people out there who work really hard, many times risk their lives or permanent disfigurement, to get people information."
He notes that a stringer for Time secured an interview with a villager who helped rescue Luttrell. He also says Gall of The New York Times was a particular standout. Based on her reporting on two Afghans who died while in U.S. custody, Gall was featured in another film—the 2007 Academy Award-winning documentary Taxi to the Dark Side.
Do-It-Yourself
Gentile is a longtime journalist whose career spans three decades. He covered the 1979 Sandinista revolution in Nicaragua, El Salvador's civil war during the 1980s, the U.S. invasion of Panama in 1989, and the Persian Gulf War of 1990-1991.
He produced and shot Afghanistan: The Forgotten War, which was broadcast by NOW on PBS. At AU, he's the director of both the Foreign Correspondence Network and the Backpack Journalism Project.
He's now facing a vastly different media landscape from what he saw in the 1970s. News outlets have shuttered foreign bureaus and curtailed international coverage.
"The mainstream American media is not as willing to devote resources to foreign coverage as they were just a decade ago or a generation ago. Having said that, there are many more freelancers out there generating information and participating in this dialogue that we call journalism," he says.
Despite less institutional support, the spread of video and online technology has enhanced backpack journalism. "We can compete because we have access to this technology. And if you have the skills and the will to do this, an individual can compete with the biggest dogs on the block, in the same arena as CNN, Al Jazeera, 'Frontline,' 'Dateline,' and all the rest of them," he says.
The Fate of Afghanistan
U.S. and NATO officials hope to withdraw most combat forces from Afghanistan by the end of 2014. The Obama administration is currently considering how many troops should remain, according to The Washington Post.
Yet the transition for greater Afghan control of security is fraught with danger, and Gentile doesn't envision a peaceful, unified Afghanistan any time soon. "I think it's going to go back to what it used to be," he says. "The place is rife with ethnic competition and subterfuge and corruption and violence. There's a reason why no one in history has been able to conquer this place."
Gentile won't go to every global hot spot, but he still feels covering the war in Afghanistan is worth the inherent risks.
"When we have tens of thousands of American forces in a foreign country, and when we have millions of Americans putting down lots of money in national treasure and national prestige, it's an important story."