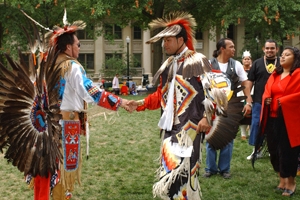 This week marks the 90th anniversary of the Indian Citizenship Act, signed into law by President Calvin Coolidge on June 2, 1924. With this historic measure, all Native Americans born in the United States were finally granted full citizenship.
Education now plays a pivotal role in assisting this historically oppressed group, and American University offers a program that broadens opportunities for Native American students. The Washington Internships for Native Students, or WINS, is part of the School of Professional & Extended Studies (SPExS). And later this month, WINS will celebrate its own 20th anniversary.
"American University has such a longstanding commitment to serving a population that historically has been marginalized and underrepresented," says SPExS Dean Carola Weil.  
Student Empowerment
WINS provides academic training, leadership development, and internships for students of Native American, Hawaiian, and Alaskan heritage. Students can enroll in WINS in fall, spring, or summer sessions on full scholarships. Applicants are allowed to attend up to three semesters, and many students are repeat participants. SPExS works with federal agencies to sponsor students. The agencies not only help cover tuition, but promote student growth and provide 40-hour week internships.  
"For some students, it's their first time coming to D.C. And they get to learn about the federal government and how it works," says Director of Extended Studies Donelle Broskow, who helps oversee the program.  
In addition to the internships, students take classes and get professional development training. During the popular summer program, students can take Native American-specific courses.
Weil says WINS stresses individual and community empowerment. "So you get the best of both worlds from students. You get someone who is smart, and someone who is able to advocate on behalf of his or her community," she says.
In the Classroom
Stephen Davis, a SPExS adjunct professor, weaves government, business, and current events into WINS classes, and he's brought in Native American guest speakers from around Washington. "I've had a wide selection of people to choose from, as the Native American community here is very active and very supportive," he says. "I've enjoyed these classes so much because it's so rewarding to see the students grow, mature, and gain confidence."
Despite huge strides made to remedy historic injustices, Indian reservations are still dealing with high rates of poverty, youth suicide, and alcoholism. Davis tries to address some of these pervasive problems in class. And when lecturing about global conflicts, he'll incorporate Native American issues into the discussion. "For example, what's the connection between Ukraine and an Indian tribe and its sovereignty?" he explains. "Sovereignty is very sensitive, a very key issue for tribes in the United States. When Russia took on Ukraine, sovereignty has been attacked. So I try to show the connections."
Expanding Opportunities
WINS students have worked at agencies such as the Social Security Administration, the Agriculture Department, and the Interior Department and its Bureau of Indian Affairs.  
Dylan Rain Tree participated in WINS in 2009. An internship at the National Library of Medicine, part of the National Institutes of Health, led to his current job there. Now he provides health information to underserved populations.
"WINS really altered my life course. It offered not only friendships and lifelong connections and business connections, but it put me on a career path," he says. These days, Rain Tree is also earning his master's degree in public administration from AU.
Culture and Diversity
SPExS casts a wide net when admitting students, Weil says. WINS includes undergraduate, graduate, and post-graduate students from many different tribes all over the country. "We take pride in that we are not limiting to a very narrow definition of Native American student," Weil says. "We do not feel that we are in a position to determine someone's identity."
"I think it's had a positive impact on the program because students are now encountering members of other tribes, in some cases for the first time," she adds.
WINS also offers students the chance to celebrate their own cultural traditions, and the summer Pow Wow on the main quad has become a well-attended event. The next one is scheduled on July 12. "They're very proud about their heritage. And I think that coming out of this experience, it makes them all the more invigorated to want to go back to their communities to make a difference," says Broskow.
History of WINS
The WINS program was formed in 1994 and it has evolved over time. "What started as more of a cultural exchange became more of an experiential learning program for Native American students," says Vice Provost for Academic Administration Violeta Ettle. "The mission of WINS has not changed, from 1994 to the present. What has changed is the strengthening of the academic content of the program."

Ettle says WINS students initially didn't earn credits for classes. Now students' credits are transferrable to their home college institutions—a great selling point for WINS. New internship sponsors and support from the Native American community in D.C. helped grow the program substantially.
SPExS was established in 2012 to oversee the Washington Semester Program, WINS, and other academic units. Weil joined SPExS as its inaugural dean in September 2012, and she viewed WINS as a strong model for other potential programs. "I actually took this position in part because of WINS. It was very much one of the programs that caught my attention as an outsider," she says. "I thought it really epitomized the kind of innovative, experiential—but also academically solid—program that we wanted to multiply at the School of Professional & Extended Studies."
Looking Ahead
The future is bright for WINS. In the near term, Bill Mendoza, executive director of the White House Initiative on American Indian and Alaska Native Education, will speak on June 19 for the WINS 20th anniversary. And SPExS is currently exploring new programs that could enhance the WINS experience. This might include a graduate certificate, and the utilization of online learning and local mentors to extend students' education to their home regions.  
SPExS is also hoping to strengthen relationships with other potential stakeholders, such as tribal leaders and private Native American businesses. Weil says, "If we can build that kind of program, it will really allow individuals who have gone through WINS to make a difference, regardless of what paths they choose."