Education
Is College A Good Investment? What Is The Value Of My Degree?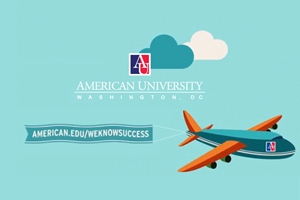 Today's students and their families seek straightforward, reliable information to help gauge the value of a college degree after graduation, decide where to spend their tuition money and choose a major. We KNOW Success: Where AU Graduates Land, an American University website, now presents data on jobs, salaries, and graduate school placement for the Class of 2014, as well as the Classes of 2013, 2012 and 2011 within six months of graduation. Internships for academic credit and study abroad experiences, which contribute significantly to the preparation of successful graduates, feature prominently on the new website.
Various college ratings claim to measure the value of a college degree or return on investment, but few present reliable data on outcomes by major, information that students and families would find valuable during the college selection process. Given that many will take on student loans and debt after graduation, a tool that shows specific degree outcomes will prove useful.
"While the lifetime value of a degree includes economic and other measures of quality of life, AU is one of the first universities to present specific, reliable information on the early outcomes of graduates who earn undergraduate and master's degrees," said Teresa Flannery, vice president for communication at American University. Wake Forest University in North Carolina and St. Olaf College in Minnesota also introduced websites with employment and graduate school enrollment data sortable by degree program. 
We KNOW Success presents information on where American University graduates are working, what they are earning, and where they are enrolled in graduate study, within six months of graduation, as well as where they did internships for academic credit and studied abroad. The information is searchable, with engaging animation, infographics and video. Prospective students can also read about academic and career paths of successful graduates like Deon Jones, Gabrielle Kuey, and Joseph Vess, and profiles of faculty mentors like Kiho Kim (Environmental Science) and Diane Singerman (Middle East Studies) who have been instrumental in contributing to successful student outcomes upon graduation. 
Transparency and Accountability
Affordability and student debt after college are on the minds of students and their parents, and transparency and accountability for outcomes are more important than ever," said Gihan Fernando, Executive Director, Career Center at American University. "We have curated a comprehensive next destination data set representing outcomes for 75 percent of new alumni within six months of graduation. This high completion rate allows a more accurate picture of outcomes across all degree programs." 
AU analyzed data from surveys and social media supplemented by direct contact with graduates. More than 120 degree programs ranging from accounting, computer science, international studies, journalism, political science, statistics to theater are represented. 
We KNOW Success shows outcomes for American University graduates: 
* 90 percent of AU grads earning a bachelor's degree are employed, enrolled in graduate school, or both, within six months of graduation.

* 90 percent of those who are working hold jobs related to their degree.

* 89 percent participate in an internship and 60 percent have studied abroad before graduation.
Experiences and Job Prospects
The website presents internships where five or more students have interned, and these are searchable by degree program. Examples include the U.S. Department of State, Discovery Communications, American Constitution Society, CNN, FDIC, Global Trade Watch, Hispanic Link News Service, International Finance Corporation, National Foundation for Cancer Research, Sirius XM and many other small, medium and large non-profit organizations, corporations, government agencies, and non-governmental organizations. 
Study abroad experiences prepare students with a global perspective. AU students participate in over 100 study abroad programs in developed and developing countries, including Belgium, Brazil, China, Jordan, India, Kenya, Malaysia, Turkey, and United Arab Emirates. A map illustrates countries and universities across the globe where students have studied abroad. 
"Internships and study abroad are key elements in preparing students for work after graduation or graduate school because they help students apply what they learn in the classroom," said Gihan Fernando.