Arts
AU Art Grad Named Chair at Claflin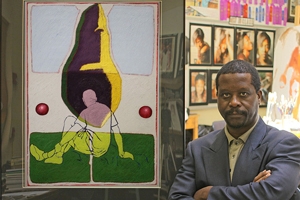 "As long as I have known myself, I loved the visual arts. It seemed only natural that I should pursue a career in the arts since that is where my heart and passion exist."
That's how Alvin Staley, a 1981 AU Art Department MFA graduate who was recently appointed chair of the Claflin University Art Department and director of the school's Arthur Rose Museum, summarizes his career.
Before accepting the position at Claflin, a historically black, United Methodist Church–affiliated liberal arts institution in Orangeburg, South Carolina, Staley served as the artist-in-residence and art teacher for Orangeburg-Wilkinson High School, where he had been since 1987. During his years there, his students had been recognized in numerous local, state, and national art competitions.
Noteworthy accomplishments those students received included awards from the National Arts Talent Search Program and the National Scholastic Art and Writing Award Program, two of the most highly competitive programs in the United States, as well as Best in Show awards at multiple state fairs. His time at Orangeburg-Wilkinson saw the school's program rise to the top 1 percent of art programs in the nation.
"During my tenure at Orangeburg-Wilkinson High," says Staley, "I strived to equip students with the in-depth knowledge and advanced level skills necessary to create artworks that emphasized advanced technical mastery, personal artistic expression, advanced compositional development, and diverse material manipulation. I believed that in the process of producing these artworks, students could develop enhanced perceptual and responsive capabilities, thus increasing their intellectual, artistic, and aesthetic sensitivity."
While at Orangeburg-Wilkinson, Staley continued to distinguish himself as a professional artist by exhibiting and receiving numerous awards at the local, state, and national levels. "It was my goal as an artist/teacher at Orangeburg-Wilkinson to prove that 'those who teach can also do,'" he says.
As an artist, Staley works to create compositions that are both abstractly and realistically accurate. He also uses his art to express his Christian beliefs and his fascination with the human soul. He explains, "In many of my artworks, I utilize scriptural references to identify the biblical passages related to the works. In various compositions, I employ personalized icons that represent my visual concept of God. I place these icons within my artworks to express the relationship that exists between God and the subject or subjects portrayed. Through my portraits, I strive to reveal the inner essence of the subject. Essentially, my artworks express the relationship that exists between God, my family, mankind, and me. It is my hope that my artworks will glorify God, edify the saints, and enlighten humanity."
Some of Staley's numerous artistic awards include Best in Show at both the 2003 and 2009 South Carolina State Fair Juried Professional Art Exhibits, first place at the 2002 NBSC Oil Painters' Invitational, and the 2011 Fine Arts Spirit Achievement Award at the South Carolina State Fair. His artworks have been presented in numerous collections throughout the country, including the Atherton Mill Art Gallery in Charlotte, North Carolina, the South Carolina State Museum, the Ponder Fine Arts Gallery at Benedict College, and the Veerhoff Galleries in Washington, D.C.
In his new position at Claflin University, Staley is laying plans to make a case for continued and expansive support of the school's Art Department through increased visibility and productivity via faculty and student achievement. He also plans to establish a Faculty Placement Panel that will identify graduate school and employment opportunities for current students and help them prepare for and apply to them. Finally, Staley seeks to build the program to the highest standard.
"I want to establish a 'world-class' art department that produces artists and educators who will make a positive impact in the visual arts locally, statewide, nationally, and internationally," he says.
The return to Claflin University is a homecoming for Staley, since he graduated magna cum laude with his BA in arts education from Claflin in 1976. But Staley also gives much credit for his success to his time at AU. "The education I received at AU changed my life artistically," he says. "Because of the in-depth instruction, and broad educational opportunities, I was able to experience diverse perspectives in the arts. During my time there, I found AU to be a warm and supportive family. Because AU possesses such a rich and vibrant educational and artistic environment, learning and growth are just inevitable."
In 1980, Staley received a fellowship to study in AU's Master of Fine Arts Painting Program. During his first year, he was selected to participate in the prestigious David Lloyd Kreeger Award Exhibit. And in 1981, he received his MFA.
Other notable teaching credits include positions at public schools in the Greenville, Florence, Orangeburg, and Colleton County areas of South Carolina, as well as Morris College, Voorhees College, South Carolina State University, and the South Carolina Governor's School for the Arts and Humanities.
For more information about Alvin Staley as an artist, visit his ArtSlant profile.