Achievements
A Novel Experience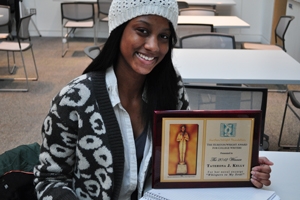 When Tatehona Kelly was 15 years old, she started to write a novel—Whispers to My Soul. When she was 18, she hit a writing wall and didn't touch the manuscript. She submitted 15 pages of the 249-page novel for the Hurston/Wright Award for College Writers in March and forgot about it.
This past summer, she got an email at 1 a.m. saying she won the award.
"When I saw it, it said, 'Congratulations!' and I thought, 'What am I getting congratulated for?'" the sophomore history major said.
Kelly said she called her mom right away.
"She said, 'Well now you have to finish it, because if you see people at the awards ceremony and they ask you questions, you can't say, 'Oh, I haven't touched it or looked at in years,'" Kelly said laughing.
She finished Whispers to My Soul over the summer and said she is happy with the final product.
"I had written the ending in my head years ago and I already had it written down on paper, but I just didn't know how to frame the rest of the story," she said. "But I think it ended pretty well."
Kelly was presented the award in December 2012 at the Legacy Award Ceremony at Howard University. The Hurston/Wright Award for College Writers is a literary award for college students of African descent. The award was cofounded by AU alumna and bestselling author Marita Golden, BA American studies '72. Judi Moore Latta, executive director of communications and marketing at Howard University, introduced Kelly and read the first page of her manuscript.
"That was the first time I ever heard anyone read it that wasn't me. I was in shock, overwhelmed, couldn't talk," Kelly said. "Someone was actually reading something that I wrote, and that was amazing."
Kelly said she never explains what the novel is about, but she did give a one-sentence synopsis.
"It's one man's journey to the afterlife," she said. "I guess without giving anything away, that's the summary."
Because she started to write it so long ago, Kelly said she can't even remember what her inspiration for the novel was. But she does remember reading The Book Thief during her freshman year of high school and thought that the dead narrator was an interesting perspective.
For those curious about the story in those 249 pages, Kelly said she does think she is going to send it to publishers. She doesn't see her future as solely an author, though—she said her passion is social justice.
"I'm going to be an author," she said. "But I'll definitely be more than an author. It'll be one of my hats. But I'll definitely be an author."