Communications
Delivering Unique Opportunities to Entrepreneurship Students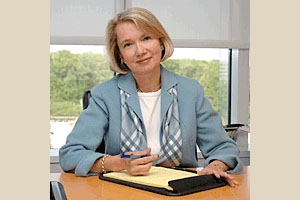 Barbara Wall, award-winning lead attorney for Gannett, really pushes the envelope to give her students in American University's Master's in Media Entrepreneurship program a great experience.
"One of my goals in teaching the legal course for the MAME program is to expose the students to as many areas of the law as I can. I also want them to hear from the top practitioners in each of the fields we cover," she explains. Given the limits of classroom time, she developed a plan to take her AU School of Communication media law class to Dow Lohnes, one of the top media and communication law firms in the country where she has several contacts.
Throughout the day, several of the nation's lead attorneys in their specialties came by to speak to the students in 45-minute sessions tailored for the class. Topic areas included copyright, trademark, vendor contracts with corporate/tax/employment and there was also a session on how to avoid litigation.
Nick Barron, a digital strategist for AARP and a student in the MAME program, said, "By visiting Dow Lohnes I was in some ways able to engage with attorneys as if they were my company's lawyers, with me asking questions, seeing their body language and experiencing a conversation. I'm working on starting my own company, and I left Dow Lohnes that day knowing for certain the legal steps I needed to take in setting up my own venture."
Wall was also pleased with the experience. "When I approached [my contacts at Dow Lohnes] with the idea, they graciously agreed to host my class for the day. The result far exceeded my expectations: the students were engaged, the lawyers' presentations were spectacular, and to top it off, Mike DiFranza, founder of Captivate Network, came in to speak about his experiences as an entrepreneur at lunch." Captivate is a network of content screens in elevators throughout the nation's office buildings and office campuses; it was acquired by Gannett in 2004.
Why did Wall go to such lengths? "The [MAME] program is built on a wonderful concept, has attracted bright and promising students and is being extraordinarily well executed. I'm committed to giving them a broad, ranging overview of the law that affects media entrepreneurs."
"Barbara has always been one of our most successful adjuncts," says program director Amy Eisman, who also worked at Gannett. "She is also the busiest person on the planet. But somehow she was intrigued enough about creating something new that she devoted countless hours to setting up one of our program's most memorable days. When I heard about it, I cleared my own calendar to attend. It was an extraordinary day."
Wall also has guests come to her class, including Evan Burfield, head of Startup DC, which is the regional arm of StartUp America, a Steve Case and White House initiative. Burfield spoke to her class the same week he was launching 1776, an entrepreneur hub for the area that has $200,000 in backing from Washington, D.C.'s mayor.
Barron says this is a hallmark of the MAME program. "In two semesters we've already chatted with successful full-time bloggers, executives of media companies, nationally recognized attorneys and top leaders in DC's startup scene. Connections and relationships are the primary reason I joined the MAME program, and so far our faculty haven't disappointed."