Journalism
Students Discuss National Security at American Forum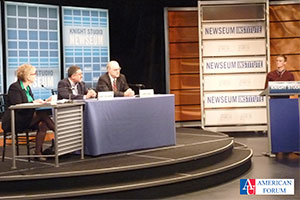 Pulitzer-Prize winning Washington Post journalist Barton Gellman fielded questions from American University students about covering Edward Snowden and the National Security Agency (NSA) at AU's American Forum at the Newseum—the first in a series sponsored by AU's School of Communication and the Newseum Institute.
Journalism professor Jane Hall moderated the event, "National Security versus Freedom of the Press."
Much of the uproar over Snowden's NSA leak has concentrated on former Guardian blogger Glenn Greenwald and, to a lesser extent, investigative filmmaker Laura Poitras. But Snowden also reached out to Gellman, who with Poitras, broke the story that exposed the NSA's PRISM program, which mines all kinds of personal information stored by the world's largest Internet companies—including audio and video chats, photographs, e-mails, and documents.
Gellman and his editor Jeff Leen, assistant managing editor in charge of investigations at the Post, also discussed the news media outlet's contributions to an evolving international dialogue about security and freedom.
Unraveling details of the NSA's classified operations is similar to a journalists' role during the Watergate Scandal, Gellman told students. "[The] biggest stakes have to do with the balance of power with government and citizens," he said. 
Where Do We Draw the Line?
After 9/11, the NSA was criticized for an inability to predict and prevent the attack. So the NSA created secret surveillance programs—which are now criticized for obstructing the civil liberties they were intended to protect.
"The question is, where do we draw the boundaries," Gellman said.
Poitras first introduced Gellman to Snowden, and what followed were a series of private conversations on secure networks. Snowden and Gellman spoke through encrypted means, Gellman told students. "We were trying to figure out together if this guy was for real," Gellman said.
After he verified the leaks as accurate, he began further reporting and fact checking followed by negotiations with the government on what would be published in The Washington Post. They weren't seeking permission, said Leen—instead, they were seeking clarity on information the government said could jeopardize national security.
Leen said they agonized and debated the issue until they came to a resolution: "The debate was waiting to happen and needed to happen."
A Generational Divide
The debate on national security and freedom seems to be divided among generations, Leen told students. Older generations seem to be more engaged and more active.
"The younger people said 'we already knew they were looking at everything,' Leen said. "We're not shocked. We're not surprised."
For the most part, students agreed.
Justin Warren, an SOC graduate student, said younger generations are aware of the international debate surrounding the NSA's spying and surveillance. But many, he said, don't care or don't consider the program to be of grave concern.
"We've heard for a long time that nothing is private, and one click of a button doesn't shield you," said Warren, who is studying journalism. "We're a part of the reality TV show generation. We expect and are totally ok with someone with a camera in your face all the time."
But as a journalist, Warren was intrigued with Gellman's reporting skills and point of view. Exploring new perspectives is part of being a journalist, he said. "That's why I came to American Forum."
School of Communication and University College students from the classes "U.S. Politics," "World Politics," "Understanding Media," "Advanced Reporting," "Politics & Media," and "Censorship and the Media" made up the audience.
Rachel Baye, a journalism graduate student who worked at The Washington Examiner said she spoke with sources who often insisted on communicating through secure channels. Protecting sources is a growing issue for journalists, she said. Whether you're covering local politics or national security, people want to be assured that their comments and thoughts are communicated privately.
Baye said she was fascinated by the fact that Gellman received news tips because of his commitment to protect his sources' confidentiality—and wondered how this story has changed journalism.
"Getting inside his head like that was really interesting," said Baye. "As a reporter, I'm interested in this as it unfolds."