Communications
New Faculty Bring Wide-Ranging Expertise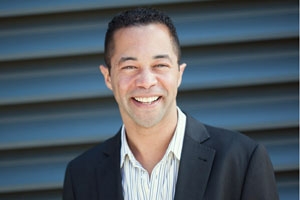 Their areas of interest and research range from Army-recruitment video games to cancer-screening messages, from research methods to electronic visualization, and from citizen journalism to terror-management theory. They include a former sports reporter, a Pulitzer Prize-winning investigative journalist, and a leading expert in game design.

They are the eight newest additions to the School of Communication faculty who will be offering students a wealth of academic and practical knowledge in a wide array of subject areas. Four of the faculty are in the Journalism division, three in Public Communication, and one in Film & Media Arts.

Here's a brief look at each of SOC's new arrivals:

Associate Professor Lindsay Grace joins the Film & Media Arts Division from Miami University's School of Creative Arts, where he taught Game Design, Interaction Design, Digital Prototyping, and the Design of Play. He founded and directed the Persuasive Play Lab and A-Game Production Studio, and was director of the AIMS Games Center. Grace will be director of the Public Purpose Game Initiative and executive director of the Public Purpose Game Studio, part of American University's 2030 Initiative. He has exhibited his work at various universities and international festivals. He received an M.F.A. in electronic visualization at the School of Art and Design of the University of Illinois at Chicago.

Michael McCluskey joins the Public Communication Division from Ohio State University's School of Communication as a senior professorial lecturer. His articles have been published in many peer-reviewed journals, including Journalism & Mass Communication Quarterly, the Journal of Communication, Communication Research, and Mass Communication & Society. His research concentrates on two main themes: the interrelationship among journalism, strategic communication, activism and politics; and media effects, especially media multitasking and terror-management theory. He has extensive print-journalism experience, and received his M.A. and Ph.D. from the University of Washington.

Pilar McKay brings both scholarly and professional experience to the Public Communication Division as a professorial lecturer. She received her M.A. and Ph.D. from UCLA, where she taught research methods. She was an adjunct instructor at Syracuse University's S.I. Newhouse School of Public Communications. McKay has been a polling director and worked in both strategic communication and advertising. She has overseen quantitative- and qualitative-data collection and management for surveys, online bulletin boards, ad testing, focus groups and ethnography. She has experience in survey questionnaires, focus-group guides and data analysis, as well as in planning social-cause campaigns.

Professorial Lecturer Paula Weissman joins the Public Communication Division from Johns Hopkins University, where she was the Assistant Director of the M.A. in Communication program and taught Media Effects, Applied Quantitative Research, and Research and Writing Methods. Her research areas include health and risk communication, with an emphasis on mass-media messages and effects. She has worked extensively with private and public sector organizations to improve health outcomes, and has conducted research for national campaigns intended to encourage physical activity, improve nutrition and increase cancer screening. Weissman received her M.A. from the University of Pennsylvania's Annenberg School of Communication, and recently completed her Ph.D. at the University of Maryland.

Terry Bryant, a professorial lecturer, joins the Journalism Division from the University of Kansas where he spent 14 years teaching broadcasting and media writing. He was the general manager of KUJH-TV, the student TV station, and trained journalism students and faculty in video and audio editing. He worked as a reporter, videographer, meteorologist and sports anchor at TV stations in Kansas, Mississippi and California, and has worked on live events with CBS Sports, ESPN and Fox Sports. He received his M.S. in Education at KU.

Associate Professor Andrew Lih joins the Journalism Division from the University of Southern California. He is an expert in online and citizen journalism, and the effects of technology on journalism. His book The Wikipedia Revolution: How a Bunch of Nobodies Created the World's Greatest Encyclopedia was published by Hyperion Press in 2009. He has presented papers at the International Symposium on Online Journalism, the Association for Education in Journalism and Mass Communication, and the Asian Media Information & Communication Centre Annual Conference. He received bachelor's and master's degrees in computer science from the Columbia University School of Engineering.

John Sullivan, a Pulitzer Prize-winning investigative journalist, joined the Journalism Division from the Medill School of Journalism at Northwestern University. Sullivan will be at the nexus of an unprecedented teaching model designed to integrate academia and industry, leveraging the strengths of each while preparing students for their own investigative-journalism careers. Under the joint hire, he'll serve as an Investigative Journalist in Residence at SOC, an investigative reporter for The Washington Post, and a Senior Editor for AU's Investigative Reporting Workshop. Sullivan received his M.A. in journalism from the University of Missouri.

Margot Susca joins the Journalism Division as a professorial lecturer from Florida State University, where she earned her doctorate in mass communication in 2012. Her academic work focuses on violent video games and culture, the U.S. Army's use of video games for recruitment, media law and policy, and on media corporations. In 2009, the Association for Education in Journalism and Mass Communication awarded Susca top student-paper honors for a critical examination of children's-television policy. Before earning her doctorate, Susca worked as a reporter in Connecticut, New York, Massachusetts and Florida. She received her master's from Columbia University in 2002.