International
World Bank's Connect4Climate Talks with International Media Students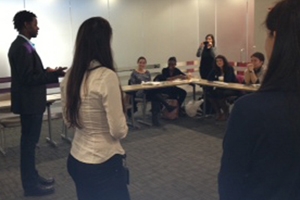 Members of the World Bank's Connect4Climate team showed International Media students how they go about convincing the world about climate change and sustainability earlier this month. The representatives of the bank visited the Production Practicum class taught by professor Sam Meddis, as part of the International Media Speakers Series.
At the meeting, the Connect4Climate team unveiled its latest competition, something called iChange. The iChange competition spurs student video-makers to make a 30-second message that promotes awareness of climate change. The winners take home €5,000 scholarship. The contest is co-sponsored between the bank and Italy's TVN network. Finalists will present their videos in Milan, Italy in May.
"How can you touch people's hearts in 30 seconds?" asked Ana Laura Vargas of the Connect4Climate team. "That 's the challenge."
"Too often there are experts swapping PowerPoint presentations and they aren't connecting with the person in Uganda who wonders why there is a constant drought in his village," said Teddy Ruge of the Connect4Climate team. Ruge knows because he was an activist in Uganda before coming to work on communications projects for the World Bank.
Meddis encouraged the students at the presentation to get involved in the competition. "It's a great cause," he noted. Before teaching in the International Media program, Meddis was the Tech Editor for USA Today.
"We have had a good partnership with Connect4Climate during the past two school years," said Rick Rockwell, Director of the International Media Program. "We want to continue to plug our students into such projects because they touch on important issues and have a global reach. That really combines the themes of what our unique program is all about."
During the past two years, International Media students have held special media brainstorming sessions with members of the Connect4Climate team and have learned how the bank gets its message out about smarter methods for international development on social media platforms. These exchanges have also increased the likelihood students in the program would be considered for internships with Connect4Climate and other bank programs.
The International Media Speakers Series brings international guests to the American University campus to exchange ideas with students, faculty and staff. These sessions are primarily created to connect with the research and interests of students in the International Media program. All International Media students are required to take the Production Practicum course during their first year in the program. That course gives students a fundamental understanding of multimedia production, including website construction, photography, and videography.