On Campus
Dean Starr Delivers Fourth Annual Address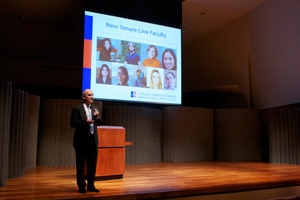 In his fourth annual address to the College of Arts and Sciences' faculty and staff on April 11, Dean Peter Starr described the great strides the College has made in the past year while confirming the College's role as "the core of an increasingly great university."
To illustrate the school's centrality, Starr noted that the College accounts for 55 percent of all AU undergraduate credit hours, 77 percent of general education credit hours, and 27 percent of non-law graduate hours. College faculty have been involved in all nine AU Project 2030 initiatives to date and have played a leading role in six of them, including proposals in environmental studies, metropolitan studies, behavioral neuroscience, and persuasive gaming.
Starr highlighted some of the most significant faculty achievements from the past year. Mary Gray was named a fellow of the American Mathematical Society; Alan Kraut began his term as president of the Organization of American Historians; Naomi Baron (WLC) was appointed a visiting scholar at Stanford; David Pike (literature) won AU's Outstanding Scholarship Award; and Tony Riley (psychology) was recognized with the Outstanding Service to the University Award. Eight History Department faculty published books this year, an impressive feat in a discipline where books often require years of primary research.
(At a reception following the address, Starr noted that it was hard to give his address before the end of the academic year because awards continue to come in. He had received word that history professor Max Paul Friedman had just received a prestigious Guggenheim Fellowship.)
Perhaps the greatest progress the College has made recently is in the sciences. "Four years ago, exclusive of math, we had 28 scientists on our faculty," Starr said. "We now have 40 current and incoming scientists, including several recent senior hires. In a few short years, with support from the President and Provost, we have taken major steps to correct AU's historical understaffing in the sciences."
College faculty built on their increasingly strong record of winning research grants from the National Science Foundation, the National Institutes of Health, the National Institute of Standards and Technology, and the District of Columbia Public School System this year, in the face of significant government spending cuts in these areas.
External funding for scientific work at AU has seen a big increase, from 16 active grants last year to 26 this year. "Our long-term prognosis is extremely good," Starr said. "We increasingly have researchers who are funded for multiple years by major sources."
Starr thanked Associate Dean Mieke Meurs and faculty from several College departments for their work in crafting new online master's degrees in nutrition education, teaching English as a foreign language, and economics, as well as traditional degrees in bilingual education and international economic policy.
Starr also thanked the College's department chairs, the Dean's Advisory Committee, and the Term Faculty Task Force, acknowledging their essential role in making the College ever stronger.
"This is AU's time," Starr concluded. "I am very serious in saying that community is our greatest asset. Ours is a great faculty and a great staff. We have many common interests; we know where we're going; and we have made extraordinary strides over the past year."