Business
Peace Conference Provides Forum for Exploring Relationship Between Business, Peace Building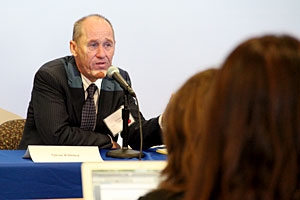 Peace is one of the most-used words in the English language, but how much is known about peace and how it is achieved?
With that simple question, Steve Killelea, founder and CEO of the Institute for Economics and Peace (IEP), opened the inaugural Peace Metrics, Peace Economics and the Role of Business Conference hosted by the Kogod School of Business.
"Peace can mean many different things to different groups…but whatever the definition, peace is required to maintain life as we know it in the 21st century, and that's a first in history," he said.
The Role of Business
For two days, nearly 100 academics and practitioners came together at Kogod to explore the role of business in peace and how to best use economic practices as a stabilizing factor in the world. The goal: to reach the IEP's definition of peace: the absence of violence and/or the fear of violence.
"Business can be a source of conflict, or it can be a resource to end conflict," said Jerry White, deputy assistant secretary for partnerships and learning, bureau of conflict and stabilization operations at the U.S. Department of State.
"It really falls to the private sector to be a role model for better behavior in these conflict zones."
This look to business as a role model falls in line with the research being done by Jennifer Oetzel, associate professor and organizer of the conference. "We know stable environments are better for business. Singapore and Costa Rica are not low cost locations for doing business but companies go there for the peace and stability they provide investors," she said. 
"We should be asking how risk management could play into reducing violent conflict. How big of an impact, for example, can having a sound supply chain have on an unstable nation?"
From Nigeria to Northern Ireland, South Africa to Israel, presenters and panel members explored how business is taking an active role in peace building and showed the data to prove it.
"Most conferences I've attended have been practitioner-based; this academic approach is something I've never seen before," said Darren Roth, director of operations for the Karuna Center for Peace Building, based in Amherst, Massachusetts and operating Africa, Asia, Eastern Europe and the Middle East.
"We're always considering new business models for field work, and it's very interesting to see the data behind the new ideas that are out there."
Academic Vision
In his opening remarks, Dean Michael Ginzberg outlined the connection between the conference's goal and the Kogod School's vision that profit and purpose are not at odds.
"[Business] can no longer operate as though profit has no master. We need to develop business plans that value responsibility, and that's why Kogod is proud to be co-hosting this conference."
The conference provided Mariya Tsglakova, BSBA '13, the opportunity to present her research on business networks in conflict zones and receive feedback on her next project.
"This was the first time I've presented my research, and now I have a better idea of what gaps I need to fill and where I should go from here," she said. "As a student it's beneficial to know that there are others interested in my field and that I'm on a good path."
Aimal Ahmadzai, MBA '14, saw the conference as an example of the extra steps Kogod takes to add depth to the student experience.
"I don't think many schools bring real-world practitioners into the academic field like this," he said. "It's so interesting to talk with people and see how what we've heard in the classroom is really being used in the world."
Kogod and the IEP have been working together since 2010; the two co-hosted the Economics and Peace Faculty Network with IEP and the Aspen Institute's Center for Business Education in 2011.
"Our relationship with Kogod has been very fruitful," said Michelle Breslauer, vice president for U.S. programs at IEP.
"Furthering the study of peace is our goal, and every time we can encourage the discussion of peace like we have at this conference is fabulous."
Going Forward
While formal plans have not yet been made for repeat conferences, both IEP and Kogod are eager to continue the partnership.
"I think we can all take away that there's a lot of energy surrounding this connection between business and peace, and that's definitely an initiative that IEP wants to keep growing," said Steve Killelea.
"I couldn't be happier with how the conference went," said Jennifer Oetzel, associate professor. "I think we brought a new issue to Kogod and we'll definitely continue to study peace and business and work with IEP in some way in the future."