Achievements
Udall Scholar Keeps His Eyes on the Prize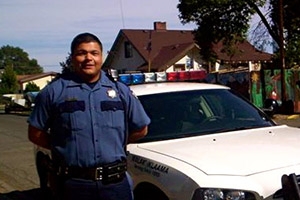 If there's a single word that describes Eric Rodriguez, it's focus.
For the AU anthropology major and 2012–13 Udall scholarship winner, that focus begins and ends with his identity as a descendant of the Yakima Nation in Washington state and an enrolled member of the Fort Belknap Indian Community in Montana.
Rodriguez was one of only 50 new Udall scholars nationwide out of more than 400 applicants, and one of eight Native Americans. American University, which has had 12 Udall scholars in the past seven years, ranks second in the nation since 2007 in producing Udall winners, according to the university's count using publicly available information.
Particularly in Indian Country, where the Udalls' family history in Congress and the Department of the Interior and their work as champions for the environment loom large, winning the scholarship "is really prestigious," Rodriguez says.
Helping his people
From an early age, Rodriguez strove to help his people. But one event sharpened his focus.
"I grew up in the housing projects, with all the effects of the reservation, all the domestic violence, the teen suicides, the alcohol and drug abuse. That was my world; that's what I was surrounded by," he says. "And so growing up I wanted to help my community and became a volunteer firefighter and EMT after graduating from high school."
By the time he was 21, he said, he wanted to do more than put out fires and "patch everybody up" as a volunteer firefighter/EMT. He was accepted as a tribal police officer in the Yakima Nation Police Department.
Then came the experiences that changed his life.
"Being a police officer was a great opportunity," he says. "But what really put me on the path was all the teen suicides I had to handle. Within a few months' period I had to handle three suicides. That was me showing up first on the scene, having to cut them down, start CPR, and stuff like that. The trials and tribulations I experienced really focused me on wanting to accomplish my goals because I know that developing tribal policies you can help prevent these things. You can't solve everything. But building stronger tribal nations is where you can help them, giving them different opportunities." 
Building stronger tribal nations also means learning from the elders, Rodriguez says. The desire to understand his culture better is why he became an anthropology major at AU, for his tribal identity is very important to him.
"It's what makes Indian people their own sovereign entity," he says. "It reinforces our self-determination." His life experience, Rodriguez acknowledges, is worlds apart from most college students'. 
"To me, it's like studying abroad, living here in D.C.," he says. "Usually I'm part of the countryside, being able to go somewhere without seeing all the concrete buildings. I'm used to a lot more trees, a lot more open space."
The next step
Before coming to AU, the desire to do more for his people led Rodriguez to the Federal Law Enforcement Training Center in Artesia, New Mexico. After returning to his community in Washington state, he was recruited by the Pojoaque Pueblo (tribal police department) in New Mexico as a tribal police officer. There he continued to learn about the jurisdictional complications tribal police encounter in incidents involving non-Indians, as well as working with different police agencies such as the sheriff's department and the state police.
It was his decision to return to the Yakima Nation, with its new approach to policing, that allowed him to pursue a more proactive course. Instead of just keeping the peace he could address problems before they spiraled out of control.
"It's a different philosophy for the Yakima Nation for community policing," he says. "Instead of just showing up at the scene of domestic violence, teen suicides, or alcohol abuse, you work with the community to figure out what's going on to try to fix it. This different approach was our ability to use the community, their own resources, to solve problems. And so what I did was work with the outlying community to establish a community coalition."
That entailed setting up joint patrols with other police agencies to work on jurisdictional problems, but also working with students to educate them about suicide prevention, to teach them to watch out for signs that a classmate or friend might need help.
The program saved lives.
As an AU student, Rodriguez continues to teach tribal police officers about community policing via webinars he conducts through his internship at the Department of Justice, where he is a Tribal Meth fellow. (Methamphetamine addiction is a big problem on and off the reservation in many communities.)
Rodriguez previously interned at the U.S. Census Bureau, a position he got through AU's Washington Internships for Native Students (WINS) program. There he worked on a project to develop life tables—actuarial tables that show the likelihood of someone in a particular group dying before his or her next birthday—for indigenous peoples. No such life tables exist for Native Americans.
The long-term plan
Rodriguez came to D.C. to learn as much as he could about federal agencies and processes that have an impact on Indian tribes. His next step: law school.
"I want to become an assistant U.S. attorney," he says. "After getting that experience, I want to go back and become an in-house counsel for my tribe. This [his life away from the reservation] is just leading up to getting the experience and contacts so I can go back and use them and develop new policies within the tribe to strengthen it."
The prestige of winning the Udall scholarship, beyond the $5,000 it provides for tuition and the opportunity to network with other scholarship winners in August in Tucson, Arizona, should go a long way toward helping him succeed. Half of the Native American/Alaska Native Udall scholars are pursuing tribal public policy careers and half health care. At AU, Rodriguez is the first Native student pursuing a career related to public policy. In winning the scholarship, Rodriguez is quick to credit the help he received from Joan Echols, associate director of the Office of Merit Awards in the Career Center. They worked together on dozens of drafts of his application.
"I truly enjoyed working with Eric on the Udall scholarship," says Echols. "I have no doubt that he will make a significant contribution to his Yakima tribe and more broadly on tribal policy and justice. His demonstrated leadership as a tribal community policing officer was impressive."
The Udall Foundation, an independent federal agency established in 1992 to support college students seeking careers in environmental protection and Indian students interested in tribal public policy or health-care careers, has provided about $6.8 million in scholarships.