Business
Paul Diaz, CEO of Kindred Healthcare, To Deliver Commencement Address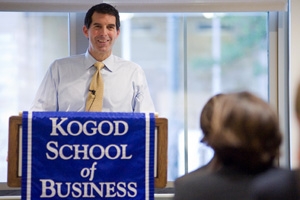 This year's commencement speaker is quite familiar with the school. Thirty years after earning his degree from Kogod, Paul Diaz, BSBA '84, CEO of Kindred Healthcare, will take the podium.
Diaz said he is honored to share his insights with the Class of 2014 on a day he hopes they, and their families, remember for years to come.
As the first of his siblings to graduate from college, Diaz remembers the sense of pride his mother felt on his graduation day and hopes to see that pride reflected in others at the ceremony.
"More than anything that I say in my speech, I hope students remember the well-earned feeling of accomplishment, and the pride they've inspired in their friends and loved ones," he said. "I hope it's something they'll feel many more times in their lives."
Diaz holds a bachelor's degree in accounting and finance from Kogod, as well as a law degree from Georgetown University. He will receive an honorary Doctor of Laws degree as part of the commencement exercises.
Based in Louisville, Kentucky, Kindred Healthcare, Inc. is the largest diversified provider of post-acute care in the United States, a top-150 private employer and a Fortune 500 healthcare services company with more than 2,000 locations and approximately 63,000 employees.
Education Fuels Desire
A first generation Cuban-American from Miami, he believes education is the conduit to opportunities, so long as that education is paired with a desire to succeed.
"[I've] learned…there are more good ideas than great successes, and the gap between the two is a gap of execution," Diaz said. "It's not enough to have a strong idea, you also have to have strong follow-through."
Diaz is a well-recognized leader, named one of the 100 Most Powerful People in Healthcare by Modern Healthcare magazine for the past six years. He's also earned numerous accolades as one of the top minority business executives.
He attributes his success to a focus on trust that he builds with his employees.
"Doing generous things that show employees how much they're valued may look like a short-term drain on the bottom line…but it increases retention, improves service, and ultimately improves the bottom line," Diaz said.
"You really can pursue success in a market economy while doing good for your community, the people you work with, and the people you serve."
This is his second speaking engagement at Kogod; Diaz also headlined the Fall 2010 Alan Meltzer CEO Leadership Speaker Series. He also serves on the board of visitors at Georgetown University Law Center, and formerly on the board of the Bloomberg School of Public Health at Johns Hopkins University.
The Kogod School of Business graduation ceremony begins at 1 p.m. on Saturday, May 10 in Bender Arena.