International
Virtual Dinner Creates Cultural Connections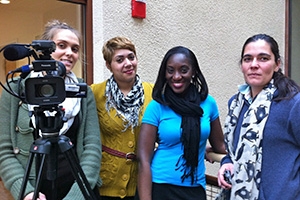 Violet Jiang, a American University student from the People's Republic of China in the International Media program was having trouble with an assignment for her production practicum course. The goal: interview Americans about whether the United States is the best place to come to build a better life. The challenge: no one wanted to give her any answers with a camera. The solution: more transparency.
 
"We told them 'We are having a video dinner with people from Egypt. Can you help us with some answers?' And they said, 'How cool!'" Violet remembers.

This is just one of the key assignments in professor Erica Burman's Spring 2014 production practicum course. The assignment took the already diverse group of International Media students and linked them via Skype for several virtual meals with university students in Egypt. The concept is to share a meal, have a discussion and then challenge students to go out and produce videos that answer questions at the heart of the Skype discussion. The idea is the brainchild of Eric Maddox, the founder of the Virtual Dinner Guest Project.

"What Maddox is doing with this project is taking cross-cultural communication concepts and putting them into action," says School of Communication Professor Rick Rockwell, the director of the International Media program, which is a joint program offered by AU's School of International Service and SOC. "When we had the chance to get students involved in this, we leapt at the opportunity."

Burman was excited about the possibilities. "It taps into everything they are learning in the class," Burman says. "It is not just a constructed project. It is real and it connects them to young people who are working in similar areas in other parts of the world."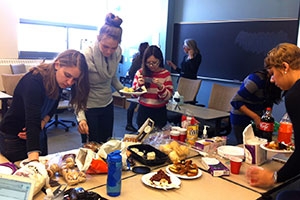 Photo c/o Kaye Adoo
The students at American University had challenged the Egyptians to ask about what advice the typical Egyptian would give to those in the next generation. Maddox, who organized the student group in Cairo, acknowledged the special video production challenges of the project especially when he would accompany the student crews. "There were real issues of xenophobia," he says. "Egyptian authorities questioned why an American was out recording videos with students." Like the students in Washington, D.C., the Egyptian students rose to the challenge and produced a video to spark further conversation. Read more on student Kaye Adoo's blog, Ode to the Dame.

Although planning took months, the students connected directly for three weeks. After the first meal, a production challenge was issued to make videos that reflected the foundations of the discussion. Then there was time for production, followed by a final meal where the students shared experiences, videos, and sparked new discussions.

The exchanges between the students went on for several hours and the conversation turned from the original discussion of opportunities and challenges for a new generation to controversial topics such as women's rights, sexual harassment, and religious freedom.
Students in both Cairo and Washington, D.C. said they were enthused to be part of this important project. And their instructors expressed similar sentiments. "It's fun to be part of something bigger," Burman said. "This project definitely made the students prepare for something on a grander scale."