Arts
Turning a Dream into Reality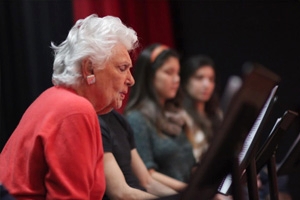 AU arts patron Sylvia Greenberg always wanted to be on stage. "When I was getting ready for college, I wanted to go to New York and be an actress," says Greenberg. "My father said no, so I never pursued it, but I think being on stage was my big dream." 
When theatre professor Carl Menninger learned that 91-year-old Greenberg had never had an opportunity to be an actress, he decided it was time to do something about it. 
"I thought, how could we not make this happen?" says Menninger. "She has done so much for AU's Theatre Program. For me, helping turn her dream into reality was a way to thank Sylvia for her tremendous generosity." 
A longtime supporter of the arts at AU, Greenberg and her husband, Harold, provided the funding to establish AU's Harold and Sylvia Greenberg Theatre. Before it opened in March 2003, students rehearsed and performed in the Experimental Theatre, a small black box space on campus that was missing a backstage. "I really wanted AU students to have a place where they could feel like they were on stage," says Greenberg. "I think a lot of these young people have great talent, and I wanted to give them a place to cultivate that." 
Menninger believes the Greenberg Theatre has helped to expand AU's Theatre and Musical Theatre Programs. "The [theatre] program would not be what it is today without her. Since Iarrived at AU 10 years ago, the program has doubled, and in no small part because we have a beautiful facility for students to use," says Menninger. "So, she's always wanted to act, and there's a theatre named after her—why is she not standing on the stage that has her name on it?" 
After reading several scripts, Menninger discovered the perfect fit for Greenberg: Amy Herzog's 4,000 Miles. A finalist for the 2013 Pulitzer Prize in drama, the play explores the relationship between 21-year-old Leo and his feisty, 91-year-old grandmother, Vera, examining their differences, disagreements, and ultimately, their connection. Greenberg played Vera, which proved to be an ideal role for her. 
"I think this show was written for me, because I could really identify with Vera," says Greenberg. "I use the same expressions she uses. I even say the same things [in real life that] she said in the script." 
Presented at the Greenberg Theatre on November 24, 2013, Menninger organized the show as a staged reading with AU theatre students. "No one had to memorize anything because we read the script from music stands. We could rehearse as much or as little as Sylvia had time for," says Menninger. "She was terrific—she got a standing ovation. The cast took a bow, and instantly the audience was on their feet." 
Aside from fulfilling her dream of being on stage, the performance fueled another passion in Greenberg: working with students. "I've never had more fun, working with Carl and all the young people," says Greenberg. "I've been connected with the students because I've always attended performances, but I never really got that close to them. I enjoyed getting to know them." 
For Menninger, the intergenerational component of the play made the experience all the richer. "Because 4,000 Miles is about a grandmother and a grandson, it sparked so many interesting conversations between Sylvia and the students," says Menninger. "One day, we sat there with the young man who played Leo and he talked about his grandparents, and Greenberg talked about her grandson and the challenges of that relationship. There was so much to be learned without ever feeling you were learning anything." 
Greenberg hopes that she can continue working with AU students and that her support for the arts will help them succeed. "I think there's a great deal of talent at AU, and I'd love to see these students be successful," says Greenberg. "It would make me feel really good knowing I was a part of that." 
More than anything, Greenberg hopes that she can continue acting. "I enjoyed every minute of performing in 4,000 Miles," she says. "I loved the whole experience. I'm ready for the stage now."