Helping to make a difference in the fragile Horn of Africa
Holger Wagner, MA SIS 2002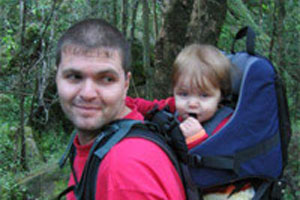 "Success can only be measured one day at time", says Holger Wagner, SIS/MS '02, who is living with his family in Nairobi working for Oxfam International on humanitarian assistance for Somalia and South Sudan.  One life saved, one child fed, one shelter built is how Holger describes his motivation about what he is doing at the moment.  Somalia, in particular, is a fragile state and the ongoing fighting and prolonged drought have taken a considerable toll on local communities.   Holger believes that as long as a good number of people keep turning small wheels, change will be possible and Somalia can be re-built with a bottom up approach.
Holger, who is German, has been living with his wife Andrea, who is Dutch and their three children, Zoë (5), Noah (3), and Niall (1) in East Africa since 2007.  Zoë was born in the US, Noah in South Africa, and Niall in Kenya, which reflects the various stages of this family's life over the past 10 years.  All three children are on their way to becoming tri-lingual and Zoë and Noah can also be seen talking vividly in Kiswahili to their friends at the Waldorf Kindergarten where they spend their mornings.  Zoë still remembers bits and pieces of Zulu, which she learned during the family's time in South Africa from 2004-2007.  Holger reckons that by the time their children graduate from High School in whatever country they may live at that time, the children will probably speak about 5 languages each, hopefully allowing them to communicate somewhat with a large part of the world's population.
The story of how a couple from Germany and the Netherlands ended up feeling most at home in Africa begins in Holger's hometown, Freiburg, Germany.  After high school, he began an apprenticeship with a travel agency in Freiburg, which gave him the opportunity to travel and see more of the world.  "Those travels made me think that staying in one's own country for an entire lifetime was not fair to all the other countries in the world" he says.
Following his apprenticeship, Holger made his first international move, enrolling in the undergraduate program at Northern Michigan University, where he met Andrea. When they travelled together on a student trip to South Africa in 1995, Holger says they felt an "instant and inexplicable connection" to South Africa.  "I knew then that I had to spend more substantial time there."
After graduating, Holger and Andrea moved to Durban, South Africa, to work.  They stayed for three years, during which time the connection they felt to their adopted country grew even stronger.  Reluctant to leave, they returned to the U.S. in 2000 to pursue graduate degrees.  Holger enrolled in AU's International Development master's program at SIS, and Andrea began her PhD in Higher Education Leadership at the University of Maryland, College Park. But Holger says that in spite of enjoying their studies in Washington, D.C., the desire to return to Africa grew even stronger.
Holger's first job after graduating in 2002 was a practicum in Ghana with the Academy for Educational Development (AED).  He and Andrea got engaged while he was working in Ghana, and he returned to Washington in 2003 to work for a development NGO managing grants, organizing training seminars, and monitoring the financial side of projects related to Ethiopia.  Although he was " glad to put some of the skills learned at AU to practice," he and Andrea were homesick for Africa the entire time they lived in Washington.  They got married in Germany in August 2003, then returned to the U.S. long enough to make use of all their contacts and circles of friends in South Africa to find jobs there.  Zoë was 8-month old when they left the US for South Africa once again.  They knew though that there was much more to be discovered in Africa.  Noah was born half-way through their 3 years in South Africa and in early 2007 they made the move to Kenya, where Holger first worked for a Somali NGO for 2 years and since early 2009 for Oxfam International.  Holger loves his job and Andrea has also found ways to engage professionally by taking on small consultancy assignments dealing with educational development in Somalia.  Both find raising a family to be their most fulfilling jobs in life and look forward to seeing how their 3 musketeers will develop in this multi-cultural and multi-lingual environment.  Both know that for the rest of their lives, all three children will carry Africa in their hearts.