Health Care in West Africa
Alumni Profile: Vanessa Marenco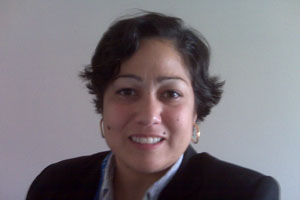 There's no doubt that Vanessa Marenco, SIS/MA '02, is using her International Development degree, working for improved health care in West Africa. But the Nicaraguan native says she's having her own Peace Corps experience right here in the U.S., including "wonderful adventures that range from dancing at the Grand Ole Opry in Nashville to milking cows in Wisconsin." "I have been traveling though the U.S. to fully experience and have a better understanding of the North American lifestyle," she says.
Marenco says she felt right at home here at AU from day one. Once she connected with the International Development program, which she describes as a "perfect match with its holistic approach, impressive faculty, great reputation, incredible diversity," and "all the space for a free open mind to grow," it was only a matter of time until she was working with a nonprofit conducting development programs in Latin America and the Caribbean upon graduation. She started off at Institute for Behavioral Change and Research (IBCR) as a program director, where she aided in the design and implementation of IBCR's first overseas program, which launched a comprehensive approach to dealing with HIV/AIDS, malaria, and tuberculosis in West Africa. Additional components to that project related to capacity building and income-generating activities that linked to the HIV/AIDS programs. Today, Marenco works as deputy director at IBCR, where she oversees all programs for the agency both Federal and District Contracts.  She says she especially appreciates having the opportunity to create programs and help communities with the most need. "It is a fine balance," she says, "between creativity and human connectivity."
A cultural explorer through and through, Marenco adds, it is fascinating to meet incredible people, and learn about their culture and customs. "Enjoying life in D.C. for now," Marenco says part of what she likes is how frequently she runs into her fellow AU alumni through work and at social gatherings. Still, now that U.S. culture is a part of her, she's ready to expand beyond the borders of her self-created "Peace Corps" experience. Her latest idea: to live for an extended period in West Africa. "I would like to have the opportunity to immerse myself in a different culture, learn the local language, and work closely with youth," she says. Eventually she may even pursue a PhD in International Relations. Although she's barely into what will certainly add up to be a long career in international relations, exploration, and academia, Marenco even has ideas already about how she might like to spend her retirement: a little house by the beach where she can go fishing every day.
Kristina Thompson, CAS/MA '00 Reprinted from Alumni Update, August 2005. Updated October 2009.