Andrea
from Colombia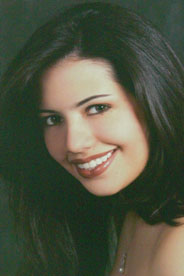 Speaks: English and Spanish
Major: Business Administration (Kogod School of Business)

---
Tell us about the most meaningful club or activity that you are involved with.

I am currently a General Assembly Member for Leonard's Hall Council, which is a group within RHA (the Residence Halls Association). We plan activities for students living in the residence halls such as Sunday nights with cookies and coffee, or free candy grams for Valentine's Day. We also help sponsor activities by student organizations other than RHA which promotes unity between the different organizations within the AU community. Being part of RHA has not only been a fun experience, it has also allowed me to become more involved and active at AU.

What's your favorite part about living in DC?

DC has everything you can ask for; museums, hip restaurants, fun nightlife, amazing internship opportunities, concerts, etc. There are so many opportunities that you can find something for everyone. No matter which day of the week or what time it is, you will always find something to do.