Aminata
from Senegal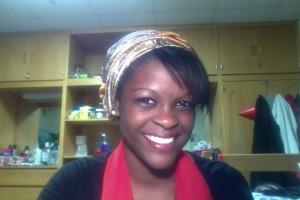 Languages: English, French, Wolof
Major: International Development (SIS)
Minor: International Business (KSB)
---
What's your favorite part about living in DC?
As a global nomad, my favorite part about living in DC is that there's always something to do in terms of cultural events. This year alone, I attended the DC Fashion Week Show along with spending an evening at the Maison Française at the French Embassy where they celebrated francophone countries and their cultures. It's definitely a great place to live if you're looking for interesting things to do while not breaking the bank. From going to the zoo or the Natural History Museum (both favorites of mine), it's really hard to get bored. And if none of your friends want to go, there's always a willing person who'll probably go with you. And finally, the weather is great. It goes from cold to warm to hot, just like the seasons should. Each season is distinct, so you really feel the east coast climate.
What's your favorite part about living on campus?
My favorite part about living on campus is that it makes it a lot easier to make friends, especially your freshman year. If you're new to a school, the best way to get to know people is to put yourself out there. It's not like high school where eventually, people will come up to you. If you want to join a club, join it. You can meet great people and have fun while at it. Also, it makes it so that I can get out of bed a half hour before class and have enough time to take a shower, get dressed, and walk over to the buildings my classes are in (makes it great to take power naps, too!). Finally, the food really isn't that bad. Compared to other universities, American has a great canteen.