Florian
from Germany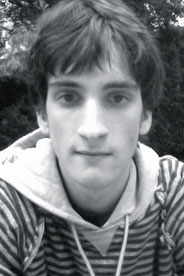 is a dual citizen of both Germany and the US
Languages: English and German

Major: International Relations (SIS)

---
What are some differences between your academic life here and at home?

In Germany, most classes (especially at the University level) are really big and impersonal. I once visited a friend and his "class" was something like 1000 students. The biggest class I ever had at AU was 300 – that that's the most our largest lecture hall will hold, but the average is 23 students per class. So the class size is a definite positive difference between AU and Germany. Also the professors are really easy to get in contact with. Most will even be willing to meet with you outside their office hours somewhere on campus if you don't have time during their office hours.

Tell us about an internship or professional experience you've had.

I was able to secure my first internship my first summer here, and actually was able to have it extended into the fall semester. It was at the Washington, DC office of a German foundation. My second summer (next summer) I will be interning at the German parliament's foreign affairs council. Really cool internships will jump at you when you come to DC, simply because you are in the capital of the US, which is a great bonus for many internships!