Kaoru
from Japan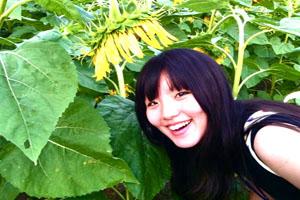 Languages: English, Japanese
Major: SIS

---
Tell us about the international community at AU and what it's like to be a part of it.
American University is very culturally diverse, so there are many international students from different regions here. The International Students & Scholars Service (ISSS) is an institution which supports international students to live and study at AU. They offer many great activities so that international students can be more involved on campus. 
For example, International Student Leadership Team (ISLT) is a cultural club, consisting of international students and "global nomads", and also organizes several cultural events every semester. I joined ISLT this semester and helped to organize one of the biggest annual events on campus, called International Vibe, which celebrates cultural diversity in AU with various kinds of ethnic foods and performances. It was interesting and fun to organize an event with people who have different backgrounds, although we sometimes had difficulties making decisions. Also, I helped at the international orientation last spring to support new international students, and it was great experience to cultivate leadership skills. Through the experiences, I could meet many new people, learn so many important things, and grow as a person.

Where on campus have you found support or mentorship?
American University offers great support for international students. First, the Academic Support Center supports students by offering academic workshops for international students and freshmen every semester. I attended several workshops for topics on class participation, presentation skills, and cross-cultural writing. Also, the Writing Center helps me to write well-organized papers, and the writing assistants give strategic advice about assignments one-on-one. 
I was struggling with academic work since the U.S. academic learning style was so different form what I was used to back home. Academic life is a big part of college life, and AU provides so many opportunities to cultivate knowledge- so we should take advantage of them.

Aside from academic support, the Counseling Center offers students mental support. One such example is the cross-cultural discussion group I joined last semester, which consisted of student members and a counselor who met once a week and talked about cross-cultural concerns. It was not just counseling, but more like a dialogue, and I always felt better after the sessions. Thanks to this support, I don't really stress out even when I'm away from home. I feel AU is a great environment to live and study in.