Maha
from Pakistan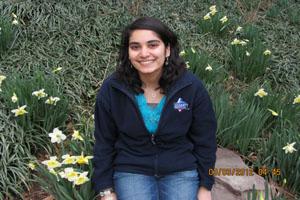 Languages: English, Urdu
Major: Undecided (CAS)

---
Why has AU been a good match for you?
When you get to college, you're going to be lost in a sea of people. That is what I had always heard about freshmen year of college, but AU doesn't let that be an option. I think the most important aspect of AU, which has made it a great match for me is the fact that there is a small school population. With only about 6,500 undergraduate students in total, most classes have an average of thirty students in the. For those of us that find numbers confusing and daunting, that means there is no "sea of people" to drown in! With small classes like these, all my intimidation about approaching professors and participating in class vanished. 
Now all my professors know me by name and I have no problem approaching them during class or even in their office hours if I need any help. Plus, these small classes create a much more engaging atmosphere where classes aren't all about the mundane routine of listening to lectures and taking notes, but are about discussion and sharing opinions – a far more interesting method. I think the small classes are what set AU apart and has really convinced me I picked the right school for me.
What's your favorite part about living in DC?
There is so much to do in DC, something for practically everyone no matter your interests. Because there are so many things to do, I have a few "favorites" of DC. The National Zoo would definitely make that list (who doesn't love those pandas?). Another would be walking down the National Mall at night when there's no rush of people and everything is lit up. Sitting on the steps of the Lincoln Memorial looking out toward the Washington monument is just beautiful – something only DC could offer. 
My absolute favorite thing, however, would have to be the cherry blossoms in spring. Ever since I was little, I would hear about the famous Cherry Blossom Festival in DC every March and see the beautiful pictures of pink and white flowers everywhere. So when I chose to study here in DC and March rolled around, you can bet I made it a priority to see the scene in person. It did not disappoint. Walking along the Tidal Basin along the path of the Cherry Blossom trees was a spectacular sight, one I would recommend all to witness if they get the chance.