Mercedes
from the Dominican Republic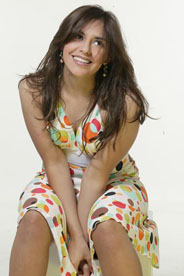 Languages: English, Spanish and French

Major: Business Management (KSB)
---
Why has AU been a good match for you?

American University has been a good match for me because of its size, faculty, and students. The faculty in every single department is extremely friendly and welcoming. They are always willing to help (especially at ISSS) and get you involved in any way possible. The campus size is just right for both meeting new people and meeting up with people you already know. When walking from class to class, you always see people you've never met before, but at the same time you see one of your friends walking towards you to say hi. Moreover, all students are very open and friendly. The diversity of cultures that AU offers allows us to have acquaintances from all over the globe. The friends that I have made here at AU make me feel at home.

What are some words of advice you would give to a friend back home who was planning to study in the US?
First of all, brace yourself… It's going to be hard - but absolutely worth it! Prepare to say goodbye to your family and say hello to independence. Don't get carried away though. Planning helps a lot, plan your budget, your study time, and your nap time (believe me you are going to need it). Before I came to college, I had never considered my high school's library as a study place, but our 4 floor Bender Library is the perfect place to concentrate, drink some coffee, work on group projects, and just about anything else. It has become my new best friend and I know it will become yours, too. The library is the perfect place to spend the so-called "all-nighters" that are often heard of and done when you go to college.

This is a once in a lifetime experience, don't let it scare you. Put your game face on and go for it! You will become independent, studious, and you will make a bunch of new friends. I guess my last piece of advice would be to take a risk, and come to American University. Although the experience may seem scary at first, I promise you that it will be completely and absolutely worth it.