Nazran
from Sri Lanka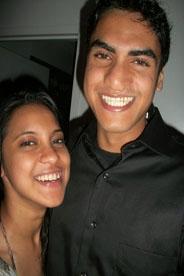 Languages: English, Sinhala, Tamil 
Majors: Economics (CAS) and Literature (CAS)
---
How has AU opened your eyes to the world?
The global exposure AU has given me through its diverse body of students is only one way AU has done this for me. If I were to list all the others this space wouldn't be able to hold my prose. Being at AU makes me want to travel the world now. It's not that cliche of everyone wanting to travel the world. Now I actually have a reason to travel the world. Whether it be Germany, Italy, Spain, Cameroon, Trinidad, Mexico, France, India, China, Japan, Korea (the list goes on and on) now I actually have people to visit and friends to meet once my college life at AU ends. Having a global patchwork of friends is what has really opened my eyes about the world.

Tell us about your favorite class at AU?

Survey of Literary Theory: LIT 254 was probably one of the best classes I've taken at AU. It was taught by Prof. Madhavi Menon and everything about the class (classmates, readings, professor) was just mind-blowing. The class gives you a good introduction to literary theory, which in turn allows you to critically view everything. How does language work? What does it do? What is literature? These are just sample of the questions this class questioned. What's mind blowing is that this class has a philosophic tinge to it whilst still being extremely demanding on literary and analytical level. It taught me to look at texts in a way I never thought possible whilst introducing me to different schools of thought which are extremely fascinating. Simply amazing! If you want a mind blowing class that jostles everything you thought was natural, given or normal, this is the class for you.