Sara
from Saudi Arabia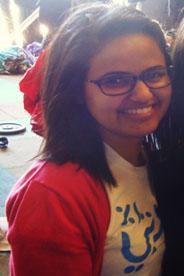 Languages: Arabic, English
Major: Psychology (CAS)
---
Tell us about community service experiences you've had. 
I had a couple of community service experiences here in DC. In the fall of 2011, I volunteered with the Red Cross and Mariam's Kitchen in Foggy Bottom. It has been a wonderful experience. I met really interesting people. And if felt great giving some of my time to people in need.

Any other story that you want to share that gives insight into your favorite or most meaningful experiences at AU?
The thing I'm most excited about is creating my own major. When I applied to AU, I applied to study Psychology but taking general education classes, I realized I'm really interested in anthropology and international studies. Hopefully, it will work out just fine!!