Triana
from Mexico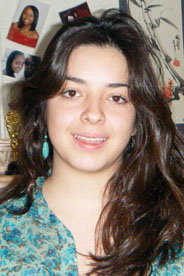 Languages: English, Spanish and French

Major: Biology and Economics (CAS)

---
Tell us about your favorite professor. What has made them great?

In my two semesters at AU I have had several very interesting and nice professors. But if I had to narrow it down to two, I would choose my Economics and Understanding Music professors. Those two classes were not related to my major, but I took them as part of the University's General Education Program.  

My Understanding Music professor was amazing. She was one of the most engaging professors I have ever had. She was so passionate about music, especially Beethoven, that it was contagious. She played the piano every class and talked to us about music and musical eras as if she were telling us a story. That class was so great because of how much she loved what she was teaching, but most importantly, she wanted us to love it too.
The other professor that is one of my favorites is my economics professor. He was the one that inspired me to major in economics. What made this professor so great was that he did not only teach the textbook and the graphs and numbers of economics, but he made us question and analyze our world through a different perspective, something that I never thought I would get from an economics class. 
I am not going to go into the details about why I think economics is so great, but what I want to say is that this professor, like many others at AU, teach us to think rather than just learn, and that is what I love about them.

Tell us about the most meaningful club or activity that you are involved with.  

In my first month at AU, I was planning on joining every club possible, having an internship, having fun and playing sports while still going to class. By my third week, I realized that was not going to happen. Adapting to a new culture, language and academic system was hard by itself, so there was no way I could keep piling up stuff to do. So, I had to make some choices.

Now, the club that I am most involved with is Ecosense. It was my favorite one since the beginning and I love the people there. What I love about it is the people I have met there. They are different from me but share the same interests. Another thing that makes Ecosense my favorite club is that it is very active. There are always things to change and fight for on and off campus, and Ecosense does a great job at engaging not only its members but the entire community in environmentally sustainable practices and causes. It is a lot of fun, and as active as it is, it is a very nice break from the everyday stress.