First-Year International Undergraduate Student Orientation
Spring 2016: Tuesday, January 5 & Wednesday, January 6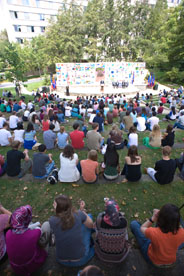 Welcome to Orientation!
International Student Orientation covers important immigration, employment, and cross cultural sessions, as well as academic information specifically of interest to all international students beginning at American University, on January 5th and 6th. Then on Thursday and Friday (January 7-8) you will join the U.S. freshmen students for the Eagle Summit Orientation. This program will give you the chance to learn important information for your studies, as well as to meet your new U.S. classmates. Families are encouraged to attend orientation with their new students.
Residence halls will open at 3:00 pm on Sunday, January 3 for students participating in International Student Orientation. You can check in directly at the front desk in your residential hall.

Hot Cocoa Social
Tuesday, January 5 
Please join other international students for our January Welcome Hot Cocoa Social at 4:00pm on January 5th. This will be a chance for you to meet other students from all around the world. After the social, there will be a chance to obtain your basic living necessities with a special shopping trip with Orientation Leaders.
ORIENTATION EVENTS (mandatory)

Wednesday, January 6, 2016

International Student Orientation

9:00 am-5:00 pm

Thursday, January 7, 2016
Freshman Fundamentals Orientation Day 1

9:00 am-6:00 pm
Friday, January 8th, 2016

Freshmen Fundamentals Orientation Day 2
 
Questions?
International Student & Scholar Services
intlorientation@american.edu
+1-202-885-3350