On Campus
10 Signs It's Back-to-School at AU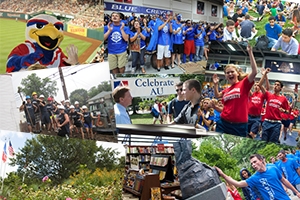 1. Books Here! Get Your Books!

At the start of each year, the Campus Bookstore's front display highlights books about the higher ed experience. You can find everything from advice on the first year for students and parents to the book selected as this year's community text for freshmen: Brooke Gladstone's The Influencing Machine. Want to sport your AU colors? Pick up some fresh university apparel while you're there to pick up your books for class.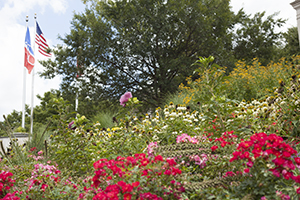 2. Extreme Makeover, Campus Edition

Is campus quiet over summer? Nah! That's the best time to spruce up the joint. This summer, the tunnel underwent extensive (and exquisite!) renovations to enhance pedestrian and vehicular traffic, lighting, and overall appearance. Keep an eye out for the fancy new tile and stone look on AU's new "Mainstreet."


3. FSE, Discover DC, and Explore DC

Welcome Week offers a host of programs designed to orient new Eagles to their home in the nation's capital. This year, AU's Freshman Service Experience celebrates 25 years of bringing students into the community through service. Both Discover DC and Explore DC take groups across the city and away from tourist sites, with Explore DC groups focusing on specific themes from food and science to communications in Washington.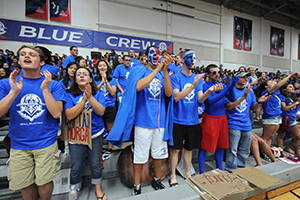 4. Blue Tide Rolls into Bender

The roar of the crowd. The squeak of sneakers on the arena floor. The ocean of blue shirts. The set, spike, and SCOOOORRRRRRRE! That's AU's Bender Blue Out! This year's annual sporting event will feature AU's women's volleyball team taking on rival Georgetown on Friday, Aug. 29, at 7:30 p.m. Come out to Bender Arena dressed in your best AU blue and join the campus' raucous Blue Crew to cheer on your fellow Eagles! You will also have a chance to see AU's soccer teams during Welcome Week.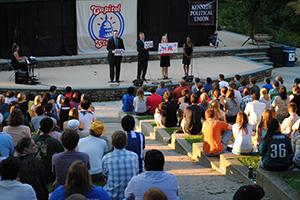 5. Capitol Steps

Speaking of AU traditions, the irreverent political comedy of the Capitol Steps returns to the Woods-Brown Amphitheater on Sunday, Aug. 24. Think of it as Schoolhouse Rock meets Stephen Colbert. Plus, other Welcome Week nighttime entertainment includes standout performances by hypnotist Tom DeLuca and the sketch comedy group Upright Citizens Brigade.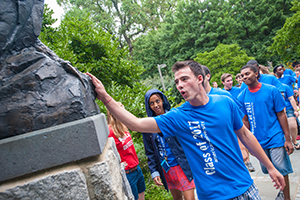 6. New Eagles, Unite! In an Orderly Queue.

Freshmen flock to the quad to participate in a procession across campus that ends in Bender Arena for Opening Convocation. Led by bagpipers, the procession marks the beginning of the students' journey at AU and will be a sentimental reminder of their first days as Eagles when years later—after rubbing the Eagle statue's talon for good luck once more—bagpipers lead them into Bender for Commencement.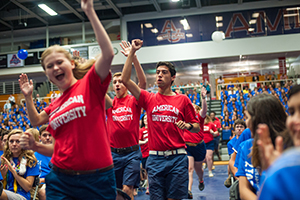 7. Opening Convocation: #AUWelcome

Once the bagpipes quiet down, students will file into Bender Arena to the sound of applause from AU staff, faculty, and community members. This warm welcome features speeches by AU President Neil Kerwin, vice president of Campus Life Gail Hanson, and 2014 AU Scholar-Teacher of the Year Max Paul Friedman. It's a look ahead at what to expect and what to strive for while at AU. New students will show their fledgling Eagle pride by learning the AU Fight Song.


8. All American BBQ

A cookout on the quad for new students featuring summer staples such as hamburgers, hot dogs, watermelon, and ice pops. This year, students can meet friends for a dinner with all their baseball favorites before heading out for AU Night at Nationals Park. Tickets to the Nationals Game can be purchased during select Welcome Week at Night activities.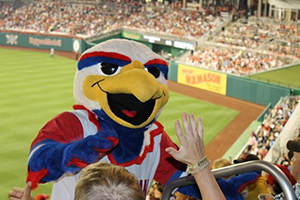 9. AU Night at Nationals Park

Play ball! On Aug. 22, students, alumni, faculty, and staff will gather at Nationals Park for an evening of Nationals baseball and AU fun. Generations of Eagles will enjoy a picnic alongside two birds of a feather: Clawed Z. Eagle and Screech, the Nationals' mascot. Free t-shirts, an AU celebrity first pitch, and in-game WONK challenges round out this AU back-to-school tradition.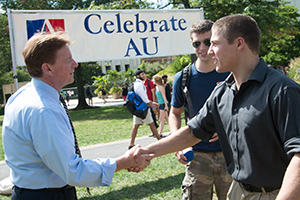 10. Celebrate AU

Celebrate the first day of classes with President Kerwin and other members of the campus community. Enjoy a midday break with music and free food—a great way to connect with old friends and make new connections! Event sponsored by the Office of the President.


Bonus Sign: Make sure you have a technical foundation for success by attending the Tech Fair to set up all your connections, and check out the Working at AU session to help you with the hiring paperwork for your campus job.