Student Life
Location Lands Opportunities for AU Students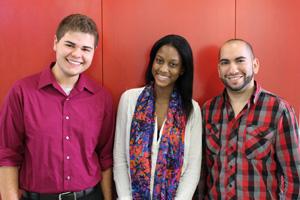 There are many upsides to an AU education. With experts in fields ranging from international affairs and political science to history and creative writing, American University is an institution of wonks educating future wonks to make the world a better place.

With that in mind, the value of attending AU is as much about what students experience outside the classroom as it is inside. Beyond the lecture hall is Washington, DC – the practical classroom where students turn their studies into opportunities unrivaled in the rest of the country.

The Center for Diversity & Inclusion's director of programming, outreach, and advocacy Sara Bendoraitis has seen scores of students take advantage of the university's location in the nation's capital.

"Being here in DC is a huge benefit for the students," she says. "So many national organizations have national headquarters here. So, the opportunities are just so much greater for our students who are in this area to be able to connect with people in a very different way than you'd be able to do if you were…in another state where there's not as many resources and availability of these internships and jobs."

Just ask undergraduate students Josh Parrish, Tatehona Kelly, and Daniel Leon. The three have enjoyed a run of incredible events and opportunities here in Washington, DC.

Parrish, along with Bendoraitis, recently attended a reception at the vice presidential residence for emerging leaders in the LGBT community. Vice President Joe Biden, his wife, and leaders from the LGBT community were on hand to meet and speak with students.

With opportunities like this one available literally down the street from campus, Parrish – an Idaho native – says he often needs a reality check to realize what is so special about the experience for students at AU.

"You just kind of get used to being able to go study in the Library of Congress or on the steps of the Lincoln Memorial. Those are just things that you take for granted," the School of Public Affairs sophomore explains. "Then you call home and say, 'Guess what? I'm going to the White House.' Everybody freaks out and gives you the reminder that this isn't something many people have the opportunity to do or have."

Tatehona Kelly, a sophomore in the College of Arts of Sciences, spent the summer interning for the Congressional Black Caucus Foundation on Capitol Hill. The Midwesterner, who's waiting for a second internship with the group, believes the experience has been eye-opening for her.

"Having a campus that's more [advocacy-based] is really helpful, especially being a multicultural student," she says of AU's diverse and engaged student body. "A lot of times you're in a very small community, and it's really helpful to branch out and see all these other avenues that my internship presented, avenues that multicultural students can go into. There are a lot of things that I didn't realize I had opportunities to do…I doubt I would have even known about this program had it not been that I lived and went to school here."

Whether from the West or Midwest, students can find themselves drawn to American University at any point in their academic careers. School of International Service senior Daniel Leon transferred from Florida to AU after receiving scholarships from Coca Cola and the Jack Kent Cooke Foundation along with AU's prestigious Abdul Aziz Said Scholarship.

Leon interned with the Clinton Global Initiative and recently volunteered with the Initiative's annual meeting in New York City, where he saw both President Barack Obama and Governor Mitt Romney speak on affecting change in the world.

He sees the move to AU as having turned his studies into experiential learning.

"Being in an international affairs or political science program beforehand, it was all theoretical wherever I went," he says. "Being at AU, some of my teachers work at the State Department, some are the experts in their field and actually know about a lot of these policies."

So, while students at universities across the nation are certainly doing great things, AU provides the perfect mix of dedicated peers, expert faculty, and the professional launch pad that is the District of Columbia.

"Students have a great opportunity to connect," Bendoraitis says. "Just by getting their names out there, the great work they're doing is being seen."

Considering all that Washington, DC has to offer, AU students will continue to enjoy the city as well as the university that encourages them to engage it.