Student Life
Orientation 2.0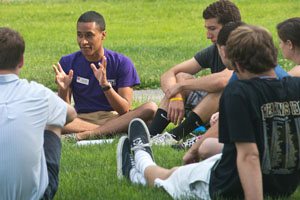 Summer is orientation season at AU, but the university's two-day Eagle Summit program is far from the average campus welcome.

"When some people say, 'Orientation,' it usually comes with 'Ugh, orientation.' You never hear that with Eagle Summit," says Mike Metzger, assistant director of New Student Programs (NSP). "It's an event. It's something they experience, and it's unique to our institution. It's something special."

Metzger and NSP director Tiffany Sanchez oversee Eagle Summit. Between the two of them, they have 24 years of experience welcoming students and their families through more than 100 orientation sessions.

Sanchez believes Eagle Summit is the final piece that lets students know they made a great decision by choosing AU as their university home.

"Our goal is to make sure that every student, when they come here, feels like 'Yes, I can see myself here for the next four years. I feel like I can make friends here, like I have a connection with a faculty or staff member. I have the support I need,'" she says.

For incoming freshman Yasara Perera, that student-faculty connection has made all the difference as she looks from orientation toward her first semester.

"It's added to my love of AU even more," she explains. "Meeting all the faculty and knowing that they're really friendly makes AU even more appealing."

June and July will see six Eagle Summit sessions on campus for first-year students with an extra session catering specifically to transfer students, all led by an army of upperclassmen orientation leaders and coordinators.

Alongside small group caucuses to better get to know one another, students attend large group presentations on transitioning to college and navigating its critical issues. First Night, a new program added to Eagle Summit this year, features games, entertainment, and team challenges at the end of the first day.

"It's going really well. I'm really enjoying it," says incoming School of International Service freshman Nathan Turregono. "They have lots of great activities for us. I'm excited to come here in the fall."

According to Sanchez, however, students aren't the only people making a transition that requires some orienting.

"Orientation, in my mind, is the turning point where a parent realizes 'I can step back now and let my student start to take the lead,'" she explains of Eagle Summit, which also includes a separate schedule of events for parents.

By the end of July, 80% of AU's near 1,700 incoming students will have convened at Summit sessions, with another 10-15% attending orientation opportunities in August before classes begin. During this week alone, the university will welcome about 800 students and family members from across the globe.

"It's so good mingling with all the other students here," says Yu Bin Choi, who comes to AU from Millford, Pennsylvania. "It's such a good experience with so many different cultures, everyone from different parts of the country and the world."

When Metzger sees the crowds of students and families on campus, he knows it's finally summer – the time when Eagle Summit, the "ugh"-free orientation, sets the tone for all those students joining the committed community of wonks at American University.

"Going out on the Quad when they're all out there is just great," he says. "You see this sea of new students, and they're laughing, taking photos with each other, and they're making those memories that they're going to look back on and say, 'Wow. That was such a great time. It really kicked this thing off for me in the right way.'"



Learn more about Eagle Summit.