On Campus
Dean's Council Holds Biannual Meeting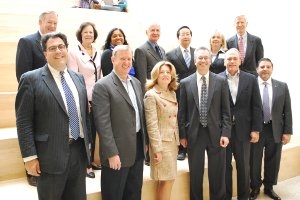 The SIS Dean's Council met on Oct. 19 during All-American Weekend.

"The SIS Dean's Council plays an invaluable role in the life of the School," said Dean James Goldgeier. "These alumni and friends of SIS provide so much support to enable us to be successful. I am grateful to them for that support and for the advice they provide as we create new and innovative programs and activities."

Dean's Council members advocate for SIS to promote a greater awareness of SIS nationally and internationally.

"The Dean's Council shapes the present and future role of the School in the lives of prospective students, current students, alumni and friends," said Associate Director of Alumni Relations Stephanie Block. "The Council also provides alumni and friends engagement with the School community in a unique way while making a positive impact."

Twice a year, the Dean's Council meets with the School's leadership team to hear about new programs and curriculum developments. They hear presentations from faculty, staff and students.