On Campus
Election 2012 Stirs, Thrills Students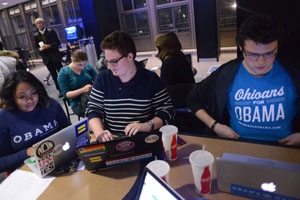 Ray Bowman's computer screen was a jumbled mess of election websites Tuesday night. Seven windows open in all, each one offering a different glimpse of the national political landscape.
There was the blank Electoral College map that Bowman, SPA/SOC '14, filled in as the results came in.
There was the page with clocks that showed when all the polls closed nationwide. And of course, there was the ubiquitous Facebook page, letting Bowman know what all of his friends were talking about. 
Bowman, a self-described political junkie, spent election night prognosticating with other students at the casual election night watch party at the Mary Graydon Center Tavern. The event was one of several gatherings on campus. 
Photos: View the excitement at the AU watch parties

Students at the Tavern didn't have to wait long to hear how the big-ticket race went. Before midnight, most major news outlets called the presidential race for Barack Obama. The incumbent president notched 303 Electoral College votes to GOP candidate Mitt Romney's 206, far surpassing the 270 Obama needed to secure the presidency.
For many students like Bowman, this year's election marks the first in which they were able to cast a presidential ballot.
And for many, it was a momentous occasion, a rite of passage that they did not take lightly. Toby Amodeo, SIS '16, voted for the first time this year, though he was no stranger to the political realm.
As a freshman in high school, he volunteered for Republican Linda McMahon's failed Senate campaign.
Amodeo and a few of his friends arrived at the Tavern early to stake out front row seats to watch the results roll in. They weren't the only ones.
The Tavern was full of people, comparing electoral maps on laptops and tapping away on cell phones. It is not surprising given that AU boasts the title of the most politically active student body in the country, according the Princeton Review. 
"It's insane here. Everyone has an opinion on politics," Amodeo said. Living on the University College politics floor, Amodeo hears his fair share of political banter.
First-Time Voters
At the "Nonpartisan Newsroom" party at the School of Public Affairs, students and faculty milled around catching snippets of the results on televisions throughout the building. They snacked on elephant- and donkey-shaped cookies.
Cassie Fowler, SPA '16, and three friends grabbed seats in the Ward 2 Auditorium to watch the results trickle in.
Like Bowman and Amodeo, Tuesday's election was the first Fowler had been able to participate in. 
"For me, the act of voting is really important. I'm exercising my ability and I realize how lucky I am that I can vote," she said. 
Before coming to AU, Fowler said she wasn't too keyed into life inside the Beltway. "I'm kind of just being indoctrinated into AU politics," Fowler said.
A Spirited Election Night
The biggest fete of the evening happened at the School of International Service, where Dean James Goldgeier welcomed hundreds of students, faculty, staff and alumni. Provost Scott Bass attended, eager to see how the election unfolded.

The spirit of the school's buzzing atrium was infectious. "We're SIS, it's election time and we wanted to celebrate that," said SIS Assistant Dean Molly Brauer. "We thought whoever wins, we should celebrate this." 
The crowd sent up a collective cheer as Senate election tallies came in for hotly contested races in Florida and Connecticut. 
A few group gasps could be heard as numbers dribbled in from various Ohio counties. Back at the Tavern, Bowman and his friends — fellow students from Ohio, Pennsylvania and Nebraska — kept their eyes trained on the results. 
Occasionally, the table would look up to see what CNN's Wolf Blitzer and John King were forecasting. Erin Randall, CAS '14, was so nervous that at times she could barely peak at the screen.
"I don't think I'm going to be able to go to class tomorrow," she said. 
Down in the front row, Amodeo was glad he nabbed a cushy seat when he did. "I'm here until there's a winner."