Television & Film
One Trip, Two Adventures: From Ocean Deep to Ancient Kingdom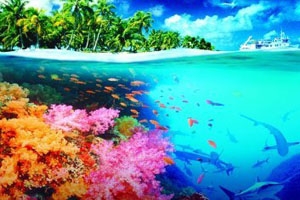 While SOC students went Into the Arctic last fall, this semester offered a Coral Reef Adventure and a visit to the Roads of Arabia. All three Smithsonian exhibitions featured SOC faculty as producers, directors or screenwriters.
First Stop: Smithsonian's National Museum of Natural History IMAX theater
Mission: Saving the Coral Reef
SOC Professor Chris Palmer, Executive Producer of Coral Reef Adventure took students on a virtual tour of the ocean depth through the lens of this IMAX film. What is killing our reefs? That was the burning question on the minds of filmmakers Howard and Michele Hall. The couple spent 10 months exploring and documenting changes in some of the world's most magnificent and endangered coral reefs.
According to Prof. Palmer, getting an IMAX shot is technically challenging and perilous. "Howard put his life in danger to make Coral Reef Adventure. He got a life-threatening case of decompression sickness – what divers call 'the bends' " Palmer revealed, "Within a month of getting the bends, he was back diving the same incredible depths to get more IMAX shots."
From Australia's Great Barrier Reef to Fiji to French Polynesia, the first half of the film painted a map of underwater wonderland where schools of fish swim through beautiful red coral reefs; but later showed us the dark side of the sea where coral reefs are gradually dying due to overfishing, extreme water temperatures, and pollutants.
Leena Neeb, one of SOC's student ambassadors, found the deep sea expedition very exciting. "I'm always wondering what's under there." Leena said, "the shark scene caught me completely off guard." She agreed the film is more than just the visuals, "It makes me wonder, what can I do to help?"
Coral Reef Adventure can't provide all the answers but is rather an attempt to raise awareness. If the reefs continue to die at this speed, all could be gone in 30 years. As Starr Brainard, SOC student who is focusing on sustainability commended, "It's important that people know it."
Second Stop: Smithsonian's Freer|Sackler Gallery
Mission: Re-discover the Kingdom of Saudi Arabia
"Roads of Arabia" took students to a very different time and space, with another form of storytelling. SOC professor Maggie Stogner shared with students that the ten-minute introductory video she produced for the exhibit took close to six months of filming and editing. "The heat, the hotness, made it really hard to work in Egypt." Maggie said, "It took a lot of effort to shoot, sort through all the footage, and arrange the materials in the most attractive way."
Professor Stogner admitted it was all worth it in the end. By putting together recently discovered archaeological materials, "Roads of Arabia" reveals a part of the cultural myth that was largely hidden before. Students were awed by the history presented in the exhibition gallery. The archeological relics which have withstood the test of time and travelled half of the world, revealed a largely unknown culture from sixth century BCE.
The Smithsonian fieldtrip, sponsored by SOC's programs & partnerships office, is part of an ongoing series of cultural outings for SOC student to explore the city.