New Features of iNotes 8.5
Instructions for Faculty and Staff
On Monday September 28th, 2009, the faculty and staff mail servers were upgraded to Lotus Domino 8.5. The new version of Domino improves iNotes web mail in many ways, including:
Speed
The new iNotes web mail 8.5 is less complex and runs more quickly, while offering almost all of the same features.
Ease of use
Changes to the layout make the new iNotes web mail more intuitive and familiar to users of other web mail services.
Document tabs
Each message, calendar entry and sub-application like mail, calendar, and to do opens in a separate tab. Navigation between the tabs is easy and fast: just a click!

Spell check
iNotes checks the spelling of your messages after you click Send. If there are any errors found, an alert appears below the formatting bar to allow you to send the message as it is, or review the errors. Spelling errors are highlighted in yellow and you can view suggested corrections by right-clicking on the highlighted word.

Spell check may not be turned on. If you wish to turn it on, click on PREFERENCES at the top right, then MAIL, then check Spell-check messages before sending under Outgoing Mail and click OK.
Browser Support
More browsers than ever can access this version of iNotes, including Safari, Firefox and Internet Explorer. iNotes also has a special minimal interface for mobile devices. To access it, click the INTERFACE button at the top right and select ULTRALITE MODE. When signing into iNotes 8.5 from the Palm Pre, or using Chrome or Opera, a warning is displayed that the browser is not certified to be compatible with iNotes, but on initial testing, they appear to work well.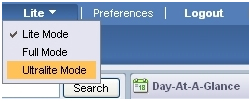 iPhone and iPod Touch Support
To access the ultralite mode on your iPhone or iPod Touch, sign into http://mail.american.edu as normal. Once your inbox is displayed, touch and hold the address bar at the top left until the magnifying glass appears. Move to the end of the address where it says UI=DWA_LITE. Enter a U so that it reads UI=DWA_ULITE and press GO. Bookmark this page by touching the plus sign at the bottom of the screen and touch ADD BOOKMARK.
Right Click Support
iNotes now displays context sensitive menus when you right-click on messages, folders and appointments.
Sidebar
The sidebar provides access to your day at a glance calendar and context sensitive help, along the right hand side of the window. To open it, click SHOW below the Search field at the top right, then SIDEBAR, and OPEN. By default, your day at a glance calendar is displayed. To add help to the sidebar, click SHOW, then SIDEBAR PANELS and HELP.
If you have questions about iNotes 8.5 or need assistance, please contact the IT Help Desk on 202-885-2550, e-mail helpdesk@american.edu, or AskAmericanUHelp on instant messenger.