CIO Update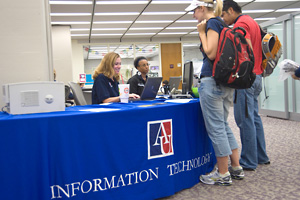 The very successful Tech Fair 2010 ran for the last two weeks in August, signaling the start of the academic year. The focus was on getting students connected to the campus network. We do this each year, offering our students personal attention, answering their technology questions, configuring their laptops, updating security protections on their systems, and removing virus infections. Now hosted on the first floor of the library, the Tech Fair helped 50% more students than the previous year, while incorporating training sessions into the fair for the first time. In total, approximately 1500 individuals were assisted. I extend a heartfelt thank you to all the volunteers from across the campus, especially the library, for partnering with us to host the fair.
The demand for campus wireless continues to grow at a rapid pace. There are days when we reach our current capacity of 4000 concurrent users. Many of our freshmen and sophomores have never connected physically through a cable to a network. To address this demand, our current wireless network is being replaced with a modern architecture that can better address the demand and growth that is expected, with added security benefits. We have been testing the new wireless technology throughout the summer months and are now rapidly deploying the new technology to the residence halls, where we see the demands have peaked. We will continue to roll out the new wireless on a priority basis to other campus locations with the greatest need, with the intention of completing the overall project by next summer.
For campus phone users, a new technology is being deployed to upgrade the system to integrate messaging so that voice mail can be delivered to your e-mail inbox. Campus phone users will also be able to receive faxes via e-mail. I have been test-driving the new technology since last spring and it has improved my productivity and ability to respond to all forms of messages from my e-mail. Voice mail messages are converted to .wav files and are forwarded to your inbox. Voice mail readers for Lotus Notes users can be downloaded and other e-mail applications can receive messages as simple e-mail attachments.
The risk posed by not patching your university-owned computer is being addressed by new software that has been deployed called LANDesk that can provide real-time updates when needed. We have started routine monthly installations of Microsoft critical security software updates to reduce the risk of exposing sensitive University and personal data.
An exciting development recently occurred when the National Science Foundation notified AU that the High Performance Computing (HPC) proposal headed by Professor Mary Hansen was granted funding. The OIT is now in the process of getting the ball rolling to address this critical need coming from research faculty and some students. To facilitate immediate access to HPC facilities, we have been working with the HPC group at University of Maryland Baltimore County to provide interim support until we can grow our own capability.
AU is making great strides forward on its Green initiatives. The OIT is participating by reducing our power consumption on many of our servers in our data center. Through a process of virtualization, we have been able to reduce power per server by over 50%. Virtualization is a wonderful technology that enables us to be more efficient, while better addressing the campus' growing needs. Next, we will research the best approach for virtualization of applications and even desktops to augment or even replace some specialized computer labs and enable users to access a standard desktop from anyplace at anytime.
It is our pleasure to serve you and I look forward to another successful semester here at AU.

With regards,
Dave Swartz
Chief Information Officer
dswartz@american.edu